Briefs: News From Jake Owen, Brad Paisley, Carrie Underwood, More
Plus, John Rich Is Back On TV; Paul Brandt Is Releasing His 11th Album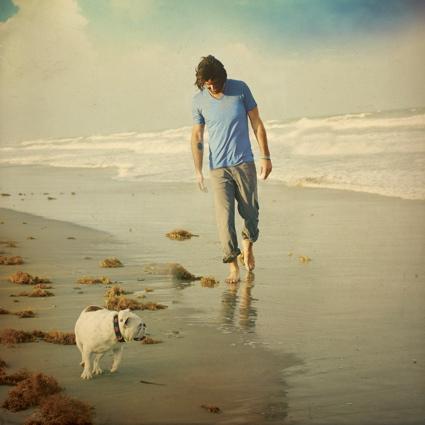 • Jake Owen (pictured with his dog, Merle) will release a four-song EP entitled "Endless Summer" on September 25.
Owen first announced that he was recording a four-song EP at his Fan Club party during CMA Music Fest in June, where he let his fans hear one song he had already cut for the EP entitled "Summer Jam," written by the duo Florida Georgia Line (who also sing on the track) along with hit songwriter Craig Wiseman. Owen also takes his first executive producer credit on the EP, which includes a cover of Ben Harper's "Steal My Kisses."
To view Owen talking about his "Endless Summer" EP, click here.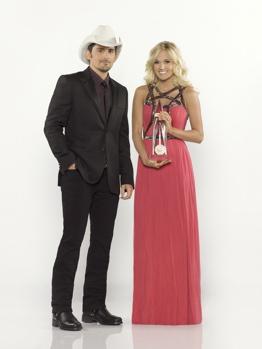 • The Country Music Assn. has confirmed news first revealed on Twitter: Brad Paisley and Carrie Underwood will be back to host the CMA Awards for the fifth time this year. "The 46th Annual CMA Awards" airs live from Nashville's Bridgestone Arena Nov. 1 (8-11 p.m./ET) on the ABC Television Network.   
"We're waiting on someone to do something really stupid between now and then," said 14-time CMA Award winner Paisley in a press release. "I have faith. We are excited. I think you walk out there with people expecting a certain thing now and that's a great place to be. I think they know who we are. They know what we do up there together and we've become something different together than we are separately I think, which is fun.
"The reason that I think it has worked is because we both take it so seriously that we're ready when we walk out there," Paisley added. "We are focused on making sure that we're not just crossing our fingers that it works, that what we have ready is ready."
Underwood, who has received five CMA Awards in her career, says, "I feel like each year our hosting gets better and better. "We want to top that every year, so it's a good challenge."
• Songwriter, producer and Big & Rich member John Rich will be featured in the new CW primetime music competition series "The Next: Fame Is At Your Doorstep," premiering today (August 16) at 9 p.m. (ET/PT). As one of four mentors, along with Gloria Estefan, Nelly, and Joe Jonas, Rich travels across the country searching for artists on the verge of stardom.
Living with each of the aspiring talents for three days, Rich, who previously made a splash on TV as the winner of the 11th season of NBC's "The Celebrity Apprentice," prepares the hopefuls for a major performance, visiting cities such as Chicago, Dallas, New York and Los Angeles. The final contestants compete head-to-head in a singing competition in Los Angeles where viewers can vote for their favorite. The winner will be awarded a recording contract with Atlantic Records.
Meanwhile, Big & Rich are preparing to release their fourth studio album (and first in four years), "Hillbilly Jedi" on September 18. It includes a track featuring Bon Jovi, "Born Again," as well as current hit single "That's Why I Pray."
• Canadian country music star Paul Brandt is preparing to release his eleventh studio album, "Just As I Am," this fall. The album, which features popular gospel songs with a bluegrass treatment, includes collaborations with Patty Loveless, Gordon Mote, Ricky Skaggs, John Anderson and others. Brandt is best known in the U.S. for his mid-'90s hits "I Do" and "My Heart Has A History."
live local music on
Enter your ZIP code to see concerts happening in your area.
Data provided by Zvents
follow msn music