That Voice On The Radio Just Might Be Jack Ingram
Singer's 'Side Gig' In Radio Hasn't Deterred Him From Making New Music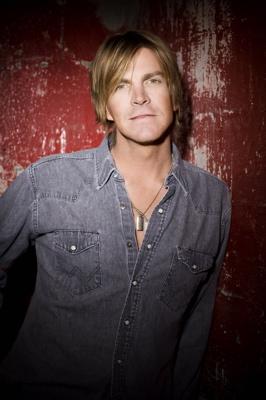 Jack Ingram is best known as the country music singer of such hits as "Wherever You Are" and "Barefoot And Crazy," but behind the scenes he has a growing side business that involves his speaking voice. Ingram is the production voice of a dozen country radio stations around the U.S., including WSIX Nashville; KWJJ Portland, Ore; WYNK Baton Rouge, La.; and KRYS (K99) Corpus Christi, Texas.

In a recent interview with radio industry Web site Radio-Info.com, Ingram described what he refers to as his "strange little side gig" and how it works. When he's home in Austin, Texas, between tour dates, he'll make a visit once or twice a month to a studio just down the street from his house and record promos and other on-air elements requested by his radio clients.
Ingram's on-air delivery is noticeable for its naturalness, and the singer says he tries to just sound like himself and not the typical big-voiced radio announcer.
"You always think of some big dude with a soundstage in his house doing Moviefone," he says of his vision of a guy in that line of work. "What I hope [listeners are] getting out of it is that I'm not trying to put them on, because nothing makes me turned off than when I think people are trying to put me on."
Sometimes radio production can stretch the considerable country star swagger of the man named the Academy of Country Music's best new male vocalist in 2008, but he doesn't mind.
"This is country radio, so they get pretty goofy," he says of some of the things he's been asked to voice. "Sometimes I look out the [studio] window and my engineer is looking at me like 'Dude, I can't believe you just said that.' But people don't know it's me."
As the clients have added up, so has the money, and Ingram says he jokes with his wife that if the radio jobs had been offered back in his 20s when he was a struggling musician, "I wouldn't have had to work. I could work an hour a month and we'd be golden."
Meanwhile, he's continuing his primary passion—making music—and has completed about half of a new album that he's excited about. Since amicably parting ways with Big Machine Records last year, Ingram admits he's still deciding what path to pursue next.
"Every day I have about and hour [of] internal struggle with myself about where everything's headed and whether it's worth fighting for a major deal or if I can get what needs to be done with an independent label or on [my] own," he tells Radio-Info.com. "I'm figuring it out, but the best part about what I'm doing is that I really only care about how I feel about my music."
As for the new music he's recorded, Ingram says, "I'm as proud of this as anything I've done. I just feel great about it. It would stand a chance commercially, but it has an element of just making music for art's sake that I think was lacking a little bit for years."
live local music on
Enter your ZIP code to see concerts happening in your area.
Data provided by Zvents
follow msn music