Taylor Swift, Tim McGraw Help "Stand Up To Cancer"
Sept. 7 Show Will Air Simultaneously On 21 Networks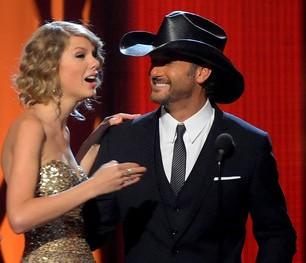 Taylor Swift and Tim McGraw are among the stars who have signed on to participate in the nationally televised fundraising event, "Stand Up To Cancer," on Sept. 7 at 8 p.m. (ET/PT). The one-hour program will air commercial-free and simultaneously on ABC, CBS, FOX and NBC, as well as 17 cable networks. It is being co-produced by actress Gwyneth Paltrow, who will also participate on-air along with Julia Roberts, Matt Damon, Michael Douglas,  Jessica Biel, Samuel L. Jackson, Jeremy Renner, Seth Rogen, Emma Stone, Katie Couric, Coldplay and Alicia Keys. Swift, McGraw, Coldplay, and Keys will provide the show's musical performances.
It will the third such fundraising special being staged by the charity Stand Up To Cancer, which was co-founded by Couric. The first two were held in 2008 and 2010. One hundred percent of all public donations will go directly to cancer research.
Also confirmed to participate in the broadcast this year are actors and personalities Simon Baker, Jordana Brewster, Dana Delany, Chelsea Handler, Marg Helgenberger, Rashida Jones, Minka Kelly, Joe Manganiello, Jillian Michaels, and Alison Sweeney, among others. Additional stars and performers will be announced in the coming weeks. The show will take place at the Shrine Auditorium in Los Angeles. 
live local music on
Enter your ZIP code to see concerts happening in your area.
Data provided by Zvents
follow msn music