Sunny Sweeney: One To Watch In 2011
Texas Artist Is A Star In The Making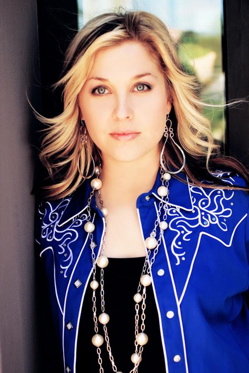 For new artists, the national radio airplay charts can move at a glacial pace. Sunny Sweeney's current single, "From A Table Away," for instance, has been toiling up Billboard's Hot Country Songs chart for more than seven months, and is only now entering the chart's top 20. And that's hardly unusual.
Until it's a bona fide hit, however, her record label won't schedule a release date for Sweeney's excellent new album, a project that would have certainly landed the No. 1 position on my top 10 albums list for 2010 had it been released last year. Advance copies of the CD circulated to country radio programmers and the music media last year have already earned the young Texan much critical acclaim.
And since "From A Table Away" is not even close to being the best song on the album, it's easy to bet that 2011 will be the year Sweeney finally emerges as a star, and deservedly so.
The self-titled, 10-song CD includes seven songs co-written by the artist. It was produced by Brett Beavers, best known as the producer and frequent co-writer of many Dierks Bentley hits. Sweeney's only previous album, "Heartbreaker's Hall Of Fame," was released in 2007 but never given a serious push to radio outside of Texas.
The new album's standout tracks include "Staying's Worse Than Leaving" (which Sweeney co-wrote with Radney Foster), "Fall For Me," "Mean As You," and "Helluva Heart," which starts with the attitude-setting line "Hell of a way to treat a woman you ought to be scared of."
A self-written bio reveals Sweeney to be an interesting, if quirky, personality. In it, we learn she's a country music history buff who loves what she calls "old school country" and has a "healthy obsession" with Merle Haggard.
We also learn she paints her dogs' toenails, has a collection of more than 2,000 toy pigs, carries her own beer koozie in her purse, reads the thesaurus, hates flying, loves cheeseburgers and prank calling people, and wants to swim in a pool of chocolate one day.
Here's hoping we hear a lot more from this talented artist in 2011.
live local music on
Enter your ZIP code to see concerts happening in your area.
Data provided by Zvents
follow msn music