Briefs: News From Zac Brown Band, Trace Adkins And Dolly Parton
Amos Lee, Jason Mraz Contribute To New Zac Brown Band Album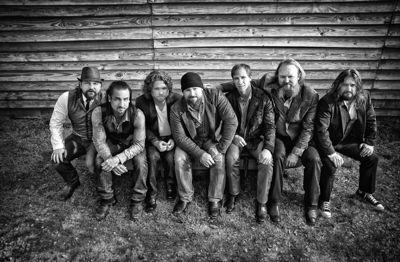 • The Zac Brown Band has revealed some details about its forthcoming album, "Uncaged," due out July 10. Brown calls it the culmination of the "powerful chemistry that's developed by living, traveling and working as a band. We're always trying to push the barrier of our musicianship, and I'm proud to say that there is a little bit of something for everyone.
Special guests on the 11-song set include Amos Lee singing on the track "Day That I Die," and New Orleans' Trombone Shorty contributing trumpet and trombone on "Overnight." Jason Mraz is among the songwriters on the project, along with Southern Ground artists Sonia Leigh, Nic Cowan, and Levi Lowrey.
"This is first record that we've made from start to finish in one thought," said band member Clay Cook of the project. "The previous albums have been a collection of songs. This is an album."
The album was recorded at various studios across the South, including Atlanta; Asheville, N.C.; Nashville; and Key West, Fla. It is the band's first album since 2010's "You Get What You Give" and its first as a seven-piece outfit following the addition of percussionist Daniel de los Reyes.
"We sat and played djembe one night until our hands bled," Brown says of meeting de los Reyes. "I love his spirit."
• Trace Adkins was on deck this week for Fleet Week to New York City, and is set to perform during the live broadcast of the National Memorial Day Concert in Washington, D.C. First, Adkins kicked off the 25th anniversary of Fleet Week New York on Wednesday, as nearly 6,000 military personnel, including U.S. Navy sailors, U.S. Marine Corps personnel and sailors from U.S. Coast Guard arrived in the city. He boarded the U.S.S. Wasp to welcome the ship's crew, then performed a free concert for sailors at Hard Rock Cafe in Times Square.
Thursday night, Trace will perform the national anthem to kick off the Intrepid Sea, Air & Space Museum's 21st annual "Salute to Freedom" dinner, where Congresswoman Gabrielle Giffords will be among those honored. He'll also do a full band show later that night.
On Sunday night (May 27), Adkins will perform during the National Memorial Day Concert, which will air live on PBS from the West Lawn of the U.S. Capitol from 8:00-9:30 p.m. (ET).
• Dolly Parton's top 5 hit from 1971, "Coat Of Many Colors," has been added to the Library of Congress' National Recording Registry. One of 25 recordings that are selected each year that are deemed "historically, culturally or aesthetically significant," the addition of Parton's song now brings the Registry's total number of recordings to 350. Also included in the registry this year were Leonard Bernstein's "A Charlie Brown Christmas," Sugarhill Gang's "Rapper's Delight" and Parliament's "Mothership Connection" and one other country song, Patsy Montana's "I Want To Be A Cowboy's Sweetheart."
live local music on
Enter your ZIP code to see concerts happening in your area.
Data provided by Zvents
follow msn music