Briefs: Taylor Swift launches tour; Darius Rucker sets album release
Plus, George Strait fans campaign for his 60th No. 1 hit, and more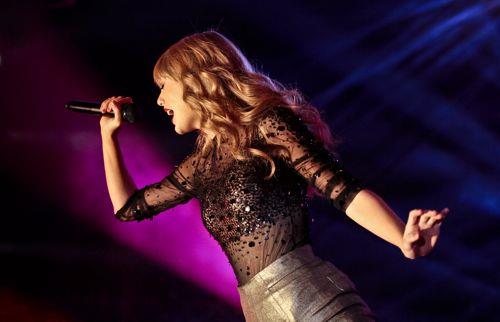 • Taylor Swift kicked off her RED Tour Wednesday night with a sold-out show in Omaha, Neb. Swift, along with opening acts Ed Sheeran and Brett Eldredge, played to a capacity crowd of more than 13,800 fans at the CenturyLink Center. Her new set features several songs from her current album, "RED", including her duet with Sheeran ("Everything Has Changed").
The North American portion of the RED Tour will play 66 shows (including 13 stadium stops) in 47 cities in 29 states and three Canadian provinces over the next six months.
The show offers a nearly two-hour performance featuring two, multi-level stages, elaborate costumes (including a whopping 10 costume changes from Swift), plus dancers, aerialists and changing sets. Swift plays electric guitar, banjo, piano and acoustic guitar.
•••••
• Darius Rucker has set a May 21 release date for his third country album, "True Believers." Rucker wrote 10 of the album's 12 tracks and recorded many of the vocals in his hometown of Charleston, S.C.
"I'm very proud of this record," he says in a press release. "The songs, the co-writes, the vibe—it's all really different from what we've recorded and released on the past two albums, and I hope that difference resonates with the fans."
Rucker will kick off his True Believers Tour May 9 in Estero, Fla., with plans to perform in more than 20 cities across the U.S. before wrapping up in Clarkston, Mich., on June 30.
•••••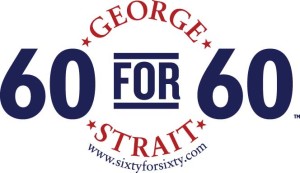 •  George Strait's record label, Universal Music Group Nashville, has launched a campaign to get George Strait his 60th No. 1 hit this year to correspond with his current age—also 60. The company has enlisted the aid of many of Strait's label-mates for this video encouraging fans to get involved in the "Sixty For Sixty" campaign, which aims to take Strait's top 15 and still climbing single "Give It All We Got Tonight" to the top of the charts.
Among the artists appearing in the video are Little Big Town, Luke Bryan, Josh Turner, Darius Rucker, Scotty McCreery, Lauren Alaina, David Nail, Kacey Musgraves and several new acts.
Strait will turn 61 on May 18, so the campaign has a looming deadline. "Give it All We Got Tonight" is the first single from Strait's forthcoming album, due for release in late spring.
By visiting sixtyforsixty.com, fans can learn how they can help the movement using Facebook, Twitter, and Instagram.
•••••
• Dierks Bentley, Keith Urban, Lady Antebellum and Pitbull have been added to the lineup of artists scheduled to perform at the "ACM Presents: Tim McGraw's Superstar Summer Night" special, taping April 8 in Las Vegas for an airing over the summer on the CBS Television Network. These artists join host McGraw and previously announced performers Jason Aldean, Luke Bryan, Taylor Swift and Ne-Yo. The two-hour concert will benefit the Academy of Country Music's charity arm, Lifting Lives. Tickets for the taping are available now at Ticketmaster.
• In other ACM news, the Academy has announced that Dierks Bentley and Hunter Hayes, along with ACM new artist of the year nominees Brantley Gilbert, Jana Kramer and Florida Georgia Line, have also been added to the line-up for the "3rd Annual ACM Fan Jam and Post-Award Concert," joining previously announced headliner Brad Paisley. LL Cool J will also make a special appearance during the event. GAC's "Headline Country" host Storme Warren will emcee for the first time. 
ACM Fan Jam takes place in Las Vegas during and after the 48th Annual Academy of Country Music Awards, airing live on CBS Television Network April 7. Throughout the three-hour Awards telecast from the MGM Grand Garden Arena, there will be live cutaways to performances at the Fan Jam, taking place at The Orleans Arena, where the show continues with a post-awards concert.
live local music on
Enter your ZIP code to see concerts happening in your area.
Data provided by Zvents
follow msn music