The Band Perry Says It's Bittersweet To Be Moving On From Debut
Meanwhile, They're Excited About "Phase Two" For The Band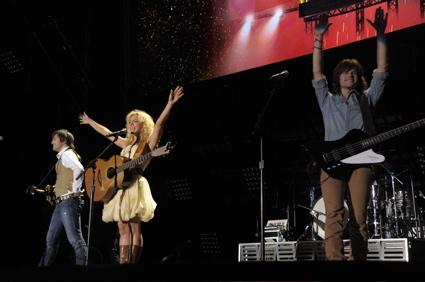 The Band Perry's current single, "Postcard From Paris," will be the last from their debut album. That's something the Perry siblings—Kimberly, Reid and Neil—admit is a little bittersweet. At a recent tour stop, a little girl in the autograph line spelled out for the band which songs she'd like to see released as singles next, but Kimberly tells MSN Music they had to tell the girl "Sweetie, you'll probably just have to enjoy that on the CD."
One of the little girls' picks, "Independence," is also a song the band members themselves had hoped would eventually be a single. But after fifth single "Postcard" runs its course, the plan is to move on to music from their Rick Rubin-produced sophomore album, scheduled for release next year. Says Kimberly, "We're excited about phase two for The Band Perry."
Meanwhile, additional cuts from their 2010 self-titled debut are still being considered as potential singles for territories outside the U.S., in particular the United Kingdom according to Kimberly, who says, "That'll be exciting for them to live in different places."
Kimberly and Luke Bryan will co-host the "CMA Music Festival: Country's Night To Rock" special on ABC Television Network Sept. 17, and she and her brothers conducted some interviews with fellow artists for the program. Before they did, however, the siblings admit they practiced for the job by interviewing one another and pretending to be other stars.
At June's CMA Music Festival in Nashville, where the special was filmed, Kimberly told MSN Music, "We've been studying a lot of YouTube clips of not only how you guys [in the media] do such wonderful interviews, but how the artists have responded to that."
For practice, added Reid, "We'll interview each other. One of us will be another artist and we'll try to get in their head and mindset." Confessed Kimberly with a laugh, "Last night Reid was Brad [Paisley], and then Neil was Brad, and then we did it all over again. It was a good time."
live local music on
Enter your ZIP code to see concerts happening in your area.
Data provided by Zvents
follow msn music