Watch Dierks Bentley Put A Bluegrass Twist On Adele Hit
Singer Performs "Set Fire To The Rain" On Upcoming "CMT Unplugged" Show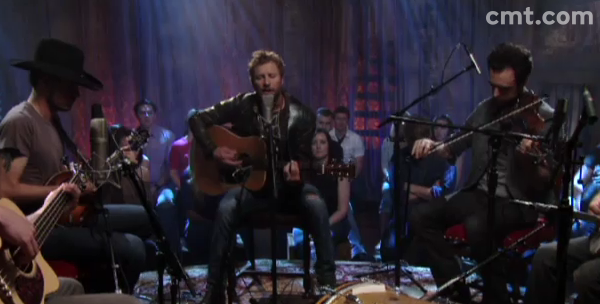 Country star Dierks Bentley has long enjoyed surprising his fans by performing unexpected cover songs during his live shows, and he doesn't disappoint on an upcoming episode of the "CMT Unplugged" series, where he plays a bluegrass version of Adele's "Set Fire To The Rain."
He recently filmed the episode at CMT's Nashville studio. In addition to "Set Fire To The Rain," the set list includes current single "5-1-5-0," as well as past hits "Am I The Only One," "Up On The Ridge," and "Home."
"I love breaking my songs back down to their original acoustic foundation," says Bentley about performing on the "Unplugged" series. "When I write these songs by myself or with friends, we just use acoustic guitars . . . so it's fun to sometimes go back to just the simple groove and idea you had to begin with."
Check out an exclusive first look at Bentley's version of "Set Fire To The Rain" here, and tune in to CMT.com to watch the whole show, which debuts on Tuesday, May 29 at 2 p.m. (ET). It will also be televised as a 30-minute special on CMT June 25 at 10 a.m. (ET/PT), and on CMT Pure also on June 25 at 9 p.m. (ET/PT). 
Are you sure you want to delete this comment?
live local music on
Enter your ZIP code to see concerts happening in your area.
Data provided by Zvents
follow msn music