Avett Brothers' Bob Crawford shares his young daughter's cancer survival story
Crawford was the keynote speaker at St. Jude Seminar in Memphis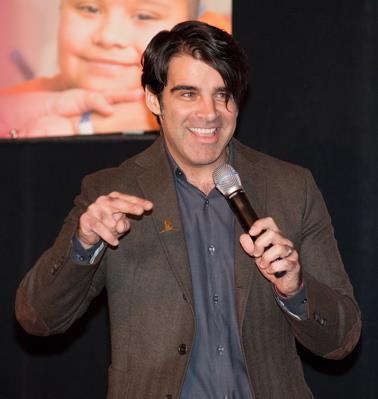 In his keynote speech last weekend at the Country Cares for St. Jude Kids Seminar in Memphis, Bob Crawford began by talking about his life as the bassist/vocalist for the Grammy-nominated band The Avett Brothers. He briefly touched on the band's rise to fame, and its lean early years where its members would burn their own CDs, then sit in the truck before shows with X-acto knives cutting out inlay cards and placing them in the CDs they'd sell themselves.
But then he stunned the many audience members not familiar with his personal story when he told the crowd, "I'm not here to talk to you about how to make it independently in the music business. I'm here because I'm a St. Jude parent."
He went on to detail his young daughter Hallie's battle with brain cancer, which began at another hospital in August 2011 and has continued at St. Jude Children's Research Hospital, the organizer of the three-day seminar for personnel from radio stations, Nashville record labels, and country artists.
He shared the story about stepping off a flight from Germany, where the band had just had what Crawford described as their "best tour ever," and being met with the news that his then 22-month-old daughter had suffered a seizure in her crib and was hospitalized in North Carolina. When he arrived at the hospital, his daughter was just coming out of surgery where doctors had removed 90% of a tumor that was so large it has pushed one side of her brain into the other. The surgery was halted before it could be completed because the baby's vitals were failing.
Crawford and his wife, Melanie, spent the next few weeks sleeping on what he describes as "Boy Scout cots" in the hospital's pediatric intensive care unit while Hallie's condition was "day to day."
After another surgery, and with the baby in a medically induced coma, the Crawfords were told repeatedly she had no chance of survival and that her brain was "destroyed." Said Crawford, "We were told 'you have a very sick little girl' over and over."
As a last resort, the couple decided to take Hallie to a hospital in Jacksonville, Fla., for experimental proton radiation, but days before their planned departure Crawford got a call from his insurance company denying coverage for the treatment.
A St. Jude prayer card mailed by an aunt sent the family in a different direction—West to Memphis—after a tour bus company offered to drive them there for free.
At St. Jude, which Crawford said "would be our home for the next six months," the family's very first meeting with a doctor brought encouraging news. That doctor's first words to them were, "There is hope. We are going to cure her. She is going to kindergarten." While the six months that followed were tough ones at the hospital Crawford describes as "the best worst place in the world," Hallie finished her chemotherapy in October and was awaiting a three-month follow-up scan at the time of his speech.
At that point in his address, Crawford brought his wife to the stage, and in her arms was a beautiful, perfect looking toddler Hallie who ducked shyly when her father tried to get her to speak into the microphone. Almost no one in the room was dry-eyed.
Then, addressing the radio station personnel present, all of whom participate in fundraising activities for the hospital, Crawford said, "I'm here to fire you up . . . When you do your radiothons, think of Hallie. We need cash, because cash buys hope.
"So many charities deserve to be funded," he added, "but I can testify that this is where you want to put your money, because it's working.
"At St. Jude, they still believe every child has hope."
Update, Jan. 30: Crawford happily reports that "Hallie's scans were clear and stable," and passes along the message to fans that the Crawford family "appreciates their concern and are always thankful for their prayers."
Disclosure: The author of this blog is a longtime member of the Country Cares advisory council.
Are you sure you want to delete this comment?
live local music on
Enter your ZIP code to see concerts happening in your area.
Data provided by Zvents
follow msn music