Tim McGraw calls his Vegas show with Faith Hill "everything we wanted"
Singer is also prepping to headline the ACM's summer TV special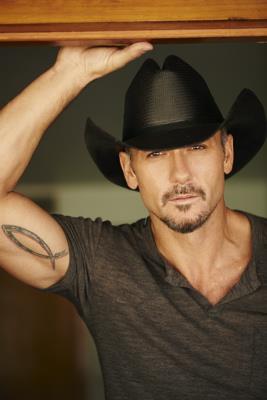 Now halfway through his 10-weekend run of Las Vegas shows at the Venetian with wife Faith Hill, Tim McGraw tells MSN's One Country the couple is really enjoying the experience of performing together in an intimate venue. "It's been everything we wanted it to be," he says.
"Why we wanted to do it is because it was tough to tour together, mainly because our children's social calendars are busier than ours, so there's no way for all of us to go [on the road]," says the father of three. "This way we get the best of both worlds. We get to perform together and be in a cool, intimate environment. That was really attractive to us to be in a room like that, and to be able to build the stage the way we want it.
"Ultimately, being on stage and singing with [Faith] is the real attraction for me because we don't get to do that that often," he continues. "I don't think people realize that we rarely get to sing together. We've done it [on] a few tours, and handful of times on TV and a handful of charity events. Other than that, we haven't sung together that much. So to get that chance was really cool for us knowing that we couldn't do it on a big tour because of our lives."
McGraw says his favorite part of their Soul2Soul show in Vegas is when he and Hill take a seat on stage and have an unscripted conversation with one another in front of the audience.
"I think that's the most fun and the most surprising to us," he says of that portion of the show. "That was also the most nerve-wracking part of it to start with, because [when] you're in that intimate of a setting, it can be intimidating a little bit . . . I think [Faith's] more concerned about what I might say. Having a conversation like that, and it's nothing scripted, you're always worried that it's going to get flat, but its been a lot of fun so far."
And while the end of the run is looming, when asked about extending it McGraw says, "It's too far ahead to think about. With everything that we've got going on, it's not even crossed my mind."
The Vegas shows continue the weekend of Feb. 15-16 and run during four additional weekends through April. McGraw will then hit the road for his own solo tour through the spring and summer. But he'll be back in Vegas one more time on April 8 to tape the Academy of Country Music's summer TV special, for which he'll be both headlining and helping pick the talent.
"We're working on it now," he says of putting together that show. "It's cool. They came and offered it to me, and wanted me to take the show and do what I wanted to with it. That was a fun and interesting prospect for me. Of course I'll do some songs, and some friends outside of country music will be involved, [from] some other genres. We'll do some pairings that will be unexpected."
To read the rest of MSN Music's interview with McGraw abut his new album, upcoming tour, and legal dispute with his former record label, click here.
live local music on
Enter your ZIP code to see concerts happening in your area.
Data provided by Zvents
follow msn music