Review: Lionel Richie TV Special Features High-Energy Country Star Performances
Here's What You Will—And Won't—See On Friday Night's CBS Show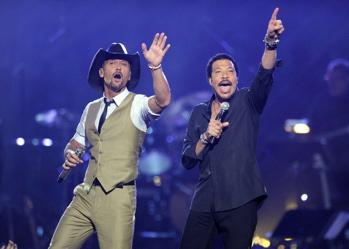 Lionel Richie's first dedicated foray into the country music genre has been a successful one, with first week sales of his country duets album, "Tuskegee," totaling nearly 200,000 copies. That success will be celebrated Friday night (April 13) with a two-hour special on CBS, "ACM Presents: Lionel Richie and Friends—In Concert," which features many of the country stars who performed with Richie on the album, and quite a few that didn't.
Taped April 2 at the MGM Grand Garden Arena in Las Vegas, the show went off nearly without a hitch. While a couple of smaller moments had to be re-shot, none of the performances required a re-take, unusual for a television special taping.
The night's three standout performances were Richie's high-energy duets with Tim McGraw ("Sail On"), Rascal Flatts ("Dancin' On The Ceiling") and a vocally stunning Jennifer Nettles of Sugarland ("Hello"). All three artists had great chemistry with Richie, although Nettles was the only female performer to share one of Richie's love songs, a circumstance that made for some slightly awkward moments with male stars throughout the show. Performing "My Love" with Kenny Chesney, Richie changed the "my friend, my lover" lyric to "my friend, my friend," adding a little chuckle as he did so.
After the teleprompter briefly went down at the top of the show, a loose and funny McGraw—stranded on stage—did a little jig for the audience then sang a snippet of "All Night Long" to entertain the crowd. Richie stepped into the wings for a moment, and when he returned McGraw (pictured above with Richie) quipped, "Now we know where the beer section is."
The show's other performers (some with Richie, some without) are: Jason Aldean ("Say You Say Me"); Luke Bryan ("Running with the Night"); Sara Evans and Marc Anthony ("Endless Love"); Martina McBride ("Still"); The Band Perry ("Penny Lover"); Lady Antebellum ("Truly"); Kenny Rogers ("Lady"); and Darius Rucker (on a beautifully harmonized "Stuck On You"). The show's finale is the Commodores song "Brick House," performed by Big & Rich with Richie. The duo threw in a few lines of their own "Save A Horse, Ride A Cowboy," perhaps feeling the audience may need to be reminded of who they are, five years after their last hit.
The show's star also performed several of his hits solo, including the show opener, "All Night Long." Later, his solo take on "Three Times A Lady" had couples throughout the venue slow dancing in the aisles.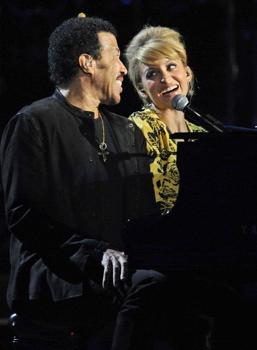 Some of the funnier moments at the taping happened when a couple of the country stars—Bryan and Rogers—went completely off-script to tell stories about Richie and sing his praises, although much of that will likely be edited out of the special due to time constrains. In both cases, the teleprompter operator struggled to keep up, and then finally shut it off as the stars continued their extemporaneous salutes to Richie. Bryan spoke about those moments when artists get to meet their heroes, and said in Richie's case, his hero was "everything you dreamed he'd ever be." Rogers, meanwhile, joked that Richie was due for this career resurgence because he needed the money. That good-natured shot was part Rogers' long, funny intro for his close friend. Rogers and Richie then performed with their arms around each other, as they tried to one-up each other on the song's vibrato.
At one point, Lady Antebellum's Charles Kelley—dressed more for rehearsals than a television taping in a t-shirt and glasses—flubbed a line, then admitted, "I'm nervous . . . Lionel Richie is looking at us."
Nicole Richie (above right) served as a presenter on the show, and later joined her dad at the piano to perform a snippet of a song called "Climbing" they'd played together when she was a child. The rest of Richie's family was seated in the front row.
Nicole said of her father, "As he crooned at me with his bad '80s sweat suits, mighty mustache and combed-out afro, I was just a toddler, not realizing I was being serenaded with some of the best songs of all time."
The special airs from 9-11 p.m. (ET) on Friday night.
Are you sure you want to delete this comment?
live local music on
Enter your ZIP code to see concerts happening in your area.
Data provided by Zvents
follow msn music