Zooey Deschanel To Play Loretta Lynn On Broadway
Country Legend Introduced The Actress At The Opry Tonight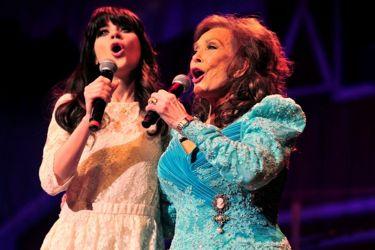 At the Grand Ole Opry Thursday night, Loretta Lynn revealed plans for a Broadway musical adaptation of her life story, "Coal Miner's Daughter," and brought out the production's future star—film/TV actress and musician Zooey Deschanel—to sing its title song with her onstage, according to The Tennessean and social media posts by audience members in attendance.

"I have a friend here tonight," Lynn, told the crowd. "There's a little girl backstage that's going to do the play of 'Coal Miner's Daughter,' and I can think she can sing her…" she paused. "... self to death! (laughs) I didn't say it! But she's great," the Tennessean reports.
"This is a great honor for me," Deschanel said. "This is my hero."
The two women then traded off verses on "Coal Miner's Daughter," and sang its final chorus together.
Plans for a stage adaptation are still in the beginning stages, with no creative team attached or workshop dates announced, reports the Tennessean. The producers — Fox Theatricals and Scott Sanders Productions — have been behind such Broadway hits as "Legally Blonde," "The Color Purple," "Red" and "Thoroughly Modern Millie."
Deschanel, 32, is the star and a producer of the Fox comedy "New Girl" and has starred in such films as "Elf" and "(500) Days of Summer."
(photo: Dipti Vaidya/The Tennessean)