Gloriana To Release Sophomore Album In July
First Project From The Group As A Trio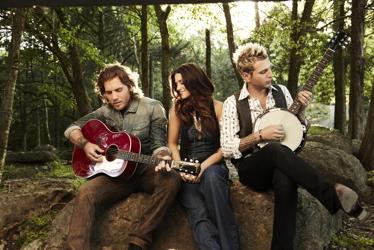 Gloriana will release its second studio album, "A Thousand Miles Left Behind," on July 31. Members of the trio had a hand in writing all 11 tracks including current top 20 single "(Kissed You) Good Night."
The band had to re-group on the album—then already in progress—after Cheyenne Kimball abruptly left what was then a quartet last summer.
"Like any new act, we were finding ourselves on the first record—in the recording process and as musicians," says Gloriana's Tom Gossin. "The new album really just feels like us, who and where we are now, to the point where we know exactly what we want to do and how to get there."
"We've grown up a lot as a band and have really honed in on our skills and found our sound," band mate Mike Gossin says of the new project.
Adds the band's Rachel Reinert, "On this record, we wanted to tell stories and I think people will be able to relate to a lot of these songs because they're honest and come from a place that's real."
Gloriana released its debut self-titled album in 2009 and went on to win the fan-voted American Music Award for breakthrough artist that year, and the Academy of Country Music Award for top new vocal group in 2010.