'SNL's' Thompson Dusts Off His Reba Costume For Endorsement
McEntire To Guest Star On 'Better With You'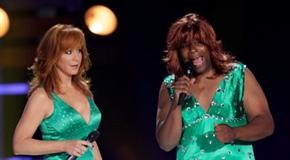 In a recent interview with MSN, Reba McEntire said she's had her time as the winner of the CMA Awards' female vocalist of the year, and now other artists should have their turn. But execs at McEntire's record label, The Valory Music Co., apparently feel differently. In a campaign aimed at industry voters, sometime Reba impersonator Kenan Thompson of "Saturday Night Live," donned his red wig and Western wear to record an endorsement for McEntire in the category, noting that she hasn't won the award in 23 years. McEntire took home the award every year between 1984 and 1987, and is currently tied with Martina McBride for most wins on the category. Thompson and the real Reba are pictured at June's CMT Music Awards. Watch the Thompson video here.
In other Reba news, on Nov. 17 she'll reunite with actress Joanna Garcia, who played her daughter in the sitcom "Reba." McEntire will guest star on Garcia's new ABC sitcom, "Better With You," playing a high-end wedding planner who tries to upstage Garcia's pending nuptials
live local music on
Enter your ZIP code to see concerts happening in your area.
Data provided by Zvents
follow msn music