Eric Church Talks Touring, Ticket Scalping, And His Musical Influences
Singer Set To Resume His Blood, Sweat & Beers Tour This Month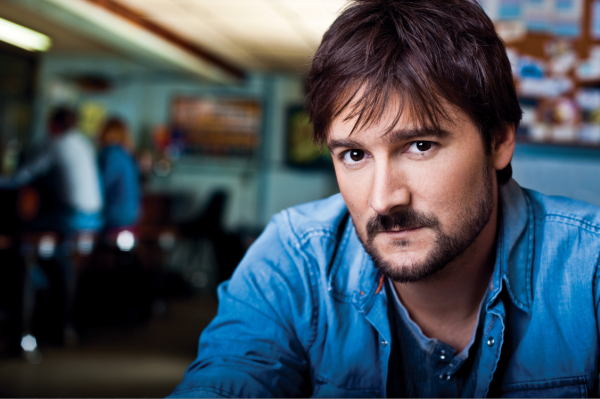 Eric Church is preparing to kick off the 45-date fall leg of his Blood, Sweat & Beers Tour on Sept. 13, with openers Justin Moore and Kip Moore. In a recent interview with MSN Music, Church said the first leg of that tour was "far more successful than I thought. We sold out 25 or 30 dates. I just never thought that was going to happen, from where we came from . . . Every night I'm pretty surprised that we got here from where we came from, but it's been fun to watch.
"I'm excited about Justin. I'm excited about Kip Moore. I'm excited to go out West and do the things we're going to do on that tour," he said.
In the last year, Church has taken an aggressive stand against ticket scalping, and has become one of the few country artists to take a vocal stand against the practice. He explained to MSN Music why that's such a hot button topic for him.
"We make a certain number of tickets available for fans because we want them down front," he said.  "When scalpers don't play fair—and what I mean by don't play fair is a lot of the scalpers use 'bots' that are computer generated, and go out there and grab up any ticket before the fan can get a ticket—it just makes it an unfair advantage [against] the fans that I want down front to get those tickets. If I wanted the ticket to be a $200 ticket, I'd have made it a $200 ticket, but I don't want it to be that. I want it to be something that the fans that have been with us a long time can afford and be up next to the stage. When the scalpers get involved, that goes out the window.
"It just aggravates me more than anything else," he added. "We're working as hard as we can to make it harder on the scalpers and keep those guys away from what we do."
Church recently received a complimentary note from Bruce Springsteen about his No. 1 hit, "Springsteen," which was clearly inspired by The Boss. But the Jersey-bred superstar isn't the only artist who has inspired Church's music.
Wearing a necklace that read "Hank," Church said the man who gave it to him, Hank Williams Jr., is one of those influences. And there are others.
"Bob Seger was a huge inspiration," he told MSN Music. "I love Lowell George and Little Feat. I love The Band . . . And there's more, [including] Kris Kristofferson. I could go on for days, but those guys are very important to me."
live local music on
Enter your ZIP code to see concerts happening in your area.
Data provided by Zvents
follow msn music