Trace Adkins To Honor Hometown Heroes In New GAC Series
Singer Came Up With The Idea For The Show He Will Also Host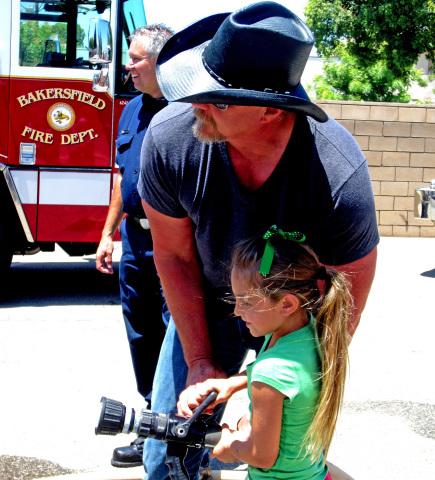 Trace Adkins has signed on to host a new GAC TV series debuting this month, titled "Great American Heroes." The show, which was conceived by Adkins, follows the singer on his nationwide Songs & Stories tour as he takes time at each tour stop to pay tribute to ordinary people doing extraordinary things in their communities.
In each episode, Adkins visits with three hometown heroes to learn about and acknowledge their efforts, and then surprises each of them with something to help them continue their good work. He also hosts each of the profiled local heroes as guests at his concert in their hometown.
"A lot of people get attention for the wrong reasons but the true measure of a hero is serving others," Adkins says in a press release. "On 'Great American Heroes,' I will introduce the real people who fit that bill. They devote themselves to others and deserve all the applause we can give them. These heroes will inspire you, make your heart swell and your eyes tear up. This show does more than tell some good stories, it affirms our faith in others."
The series will highlight the work of local heroes in a total of 10 communities. They include a minister who started a carpentry shop to teach woodworking skills to homeless men, a 13-year old girl who creates community vegetable gardens and donates the harvest to feed people in need, and two sets of parents who develop programs for special needs children.
The show premieres Aug. 22 at 8 p.m. (ET). Episodes will re-air on Sundays at 8 p.m. (ET).
In the photo above taken from one of the episodes, Adkins helps a child learn how to use a fire hose while visiting with organizers of the Burn Foundation of Bakersfield, Calif. The foundation arranges ski trips and events, and raises funds to sponsor kids at summer camps while educating children and parents about burn safety. (Photo: Business Wire)