Tim McGraw Talks Music, Family, Films, And Being A 'Gym Rat'
Singer Opens Up About Future Acting Roles, And Rumors Of A Vegas Show With Faith Hill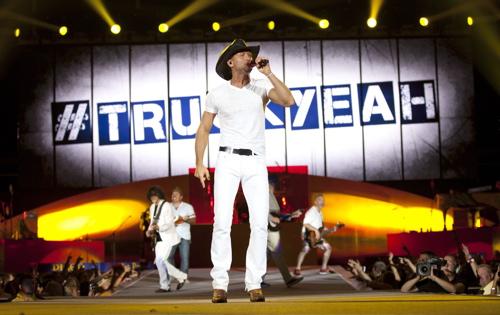 With a brand new record deal under his belt, and a new single, "Truck Yeah," going to country radio on July 3, Tim McGraw is at a good place in his career, and he's excited about the new album he's just finishing up and hopes to have out later this year.

Last weekend, just hours before he was set to play a Nashville stadium date with Kenny Chesney on the singers' Brothers of the Sun Tour, McGraw hosted a crawfish boil for Nashville media and answered questions about a variety of topics, including the tour, his rumored Las Vegas residency with wife Faith Hill, his future film roles, and even his workout regimen. Here are some excerpts from the conversation.
On how the Brothers of the Sun Tour is going so far:
"It's a big deal. It's a big operation . . . It's really a mini city that's moving everywhere. We don't get much time to goof around, to tell you the truth. I fly in and out most of the time, and Kenny flies in and out most of the time, so the most time that we get the chance to hang is when we're doing our 30-minute set together at the end of the night, which is really the most fun."
On feeling rejuvenated by his new deal with Big Machine Records:
"Certainly there's a freshness and a new energy around everything that I do. I feel inspired, and I feel like there's a brand new world opening up. I think that there's so much more left in my career. I think there's more ahead of me than there's ever been behind me."
On now being on the label that launched with a single named for him, Taylor Swift's "Tim McGraw":
"I haven't thought about that. I'm just waiting on my check." [Laughs]
On new single "Truck Yeah":
"'Truck Yeah' sort of goes back a little bit to the beginning of my career, a little bit of the attitude, which I kind of like."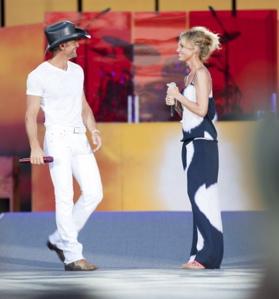 On his rumored Las Vegas show with Hill:
"There's some cool things happening. Not ready to say for sure what it is yet, but we're working on some ideas for sure. Whatever we do it will be interesting and fun, and very limited."
"It certainly, for our family, would work well. For us to be able to do something together is a pretty good situation . . . Faith and I really look at our careers in three different ways: she has her career and I have my career, and we have a third act, really, which is our career together, Soul 2 Soul."
On his future film acting plans:
"There's two or three things floating around that I really like. The hardest thing is timing. You can read 50 scripts and not find anything that you like. It's much like finding songs. You listen to thousands of songs and you find those magic things, and for me, it all has to start with a script, of course. If that's not right, then nothing's right. Then I have to find a script that's going to be done with the [available] window. It's a two to three month commitment to a movie when you decide to do one, not to mention the preparation before, and you don't want to short change anybody. So [it's about] finding something that you like, finding something that's being done in the time that I have available, and then if those two things line up, them really wanting me to do it. I'm not at the point yet where I can just go say 'I want that role' and its mine. I have to work for it.
"This year is going to be tough because we have two daughters in high school this year. And Faith's making an album [that is] practically done and will be coming out soon, hopefully. And I'm in the middle of my album. So it's going to be tough to find time to make a movie. But that being said, there's two or three things floating around that, if they fall into place, then they'll be fun to do.
"I'd love to do a baseball movie. It would have to be an aging baseball player [role] now. Better do one before I'm the coach."
On keeping fit despite his busy schedule:
"I was an athlete growing up, so I've always sort of been a gym rat. There's been times in my life and career where I've let it slide a little bit, but I just like being healthy. I quit drinking four years ago because I wanted to be healthy and because I wanted to be around for my grandkids. I think more than anything, I want to live a long time and I want to see my kids grow up and I want to meet my grandkids and hopefully my great grandkids, so I just try to be healthy."
On why he uses Twitter so little:
"I don't have time. That's the main thing. We're just so busy. I'm sure that's probably a lame excuse. Part of me is like who cares? Who cares if I'm going to the grocery store? I just really haven't bought into that. Plus, I like privacy a little bit, too. But I do a little bit, and a try to do a little more every now and then [if] something is interesting. But I really can't get into the mundane, everyday things that everybody does in life that everybody else wants to hear about."
On looking back over his career to date:
"I'm not very good at looking back. I'm always looking forward, so I've never really sat down and looked at my career in retrospect. I think if I did that I might just say 'well, hell, that's enough' and quit. I don't know. I want to keep moving forward. I've still got a lot more to do."
live local music on
Enter your ZIP code to see concerts happening in your area.
Data provided by Zvents
follow msn music