Bellamy Brothers Flash Mobbed In Europe
Groups Organize In Three Cities To Dance To New Bellamy Tune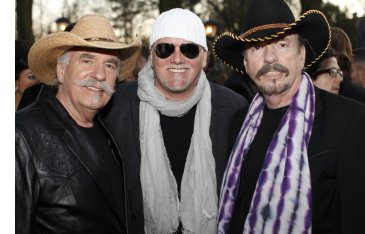 On a recent European media blitz to support their new release with German pop artist D.J. Ötzi (center), the Bellamy Brothers were simultaneously flash mobbed in three separate cities in Germany, Switzerland and Austria. European fans and dance clubs organized the massive mobs—choreographing dance moves set to the tune of the new Bellamy/Ötzi tune, "Like A Star"—and heavily promoted them throughout Europe via Facebook and Twitter.
Thousands of fans turned up in designated public locations in Berlin, Zurich and Vienna to dance to the song, which appears on the recently released European album " D.J. Ötzi & the Bellamy Brothers: Simply The Best."
Video can be seen here of the Berlin flash mob more or less dancing to the synchronized moves while D.J. Ötzi looks on.
"We were in Berlin rehearsing for a television performance when we heard about the mob," says David Bellamy in a media statement. "We drove over and were in complete awe of how many people were singing and dancing to 'Like A Star' in perfect sequence."
"D.J. Ötzi & the Bellamy Brothers: Simply The Best" features Ötzi and the Bellamys singing together on some of their biggest hits, as well as several American classics.  Tracks include "The Gambler," "Islands In The Stream" and "Sweet Caroline," among others.