The Civil Wars, Bonnie Raitt Among Americana Awards Winners
Honorees Also Included Alabama Shakes, Gillian Welch And More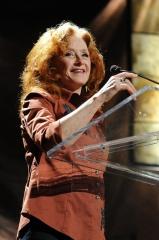 At Wednesday night's Americana Music Awards and Honors ceremony in Nashville, top winners included The Civil Wars, Alabama Shakes, and Gillian Welch. Bonnie Raitt (pictured at right) was honored with a lifetime achievement award for performance, presented to her by a former lifetime achievement award recipient, John Hiatt. The album of the year award was given to a compilation album that pays tribute to Guy Clark.
Here are all the winners in the artist categories:
Artist of the Year: Gillian Welch
Duo/group of the Year: The Civil Wars
Emerging Artist of the Year:  Alabama Shakes
Instrumentalist of the Year: Dave Rawlings
Album of the Year: "This One's For Him: A Tribute to Guy Clark"
Song of the Year:  "Alabama Pines;" Written by Jason Isbell and performed by Jason Isbell and the 400 Unit
Lifetime Achievement for Performance: Bonnie Raitt
Lifetime Achievement Award for Instrumentalist: Booker T. Jones
Lifetime Achievement Award for Songwriting:  Richard Thompson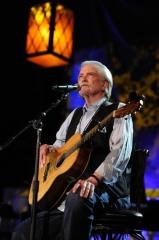 Performers at tonight's ceremony at the Ryman Auditorium included Clark (left), Isbell, Alabama Shakes, Thompson, and a duet from Raitt and Hiatt on "Thing Called Love." The show also included performances by Kasey Chambers and Shane Nicholson; The Mavericks; Lee Ann Womack, Tom T. Hall and Peter Cooper; The Punch Brothers; Robert Ellis; Hayes Carll and Cary Ann Hearst; the Carolina Chocolate Drops; Sarah Jarosz and numerous others.
The evening's finale was a group performance of The Band classic "The Weight," played as a tribute to the late Levon Helm, who died earlier this year. His daughter, Amy Helm, started the song before being joined by Raitt, Hiatt, Thompson, Emmylou Harris and Brittany Howard from Alabama Shakes.
On November 10, PBS' "Austin City Limits" will broadcast an abridged version of the show.

Americana Awards sounds too specialized to draw a big following.  Ok, it draws from many genres, but it's now one itself, albeit with many shades of folk, blues, soul, etc. As it is, the left-of-the-dial stations where its audience most likely comes from is small to begin with. Is the audience growing enough so that there's a purpose for these awards in the long run?  As for what's happening in the rest of the world, I was surprised to find a dj/electronic act like Skrillex has 64M+ views on one of his videos when for my taste, it sounded pretty monotonous. Carly Mae Jepson's "Call Me Maybe" is nearly the same in its way.  Is this were most of the young audience is at?
Are you sure you want to delete this comment?
live local music on
Enter your ZIP code to see concerts happening in your area.
Data provided by Zvents
follow msn music