Briefs: News from Scotty McCreery, Trace Adkins and more
Plus, Craig Morgan is helping bring service members home for the holidays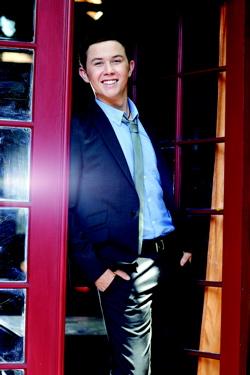 • Scotty McCreery has teamed up with Bojangles' Restaurants for a new advertising campaign. The singer will be featured in a series of TV and radio commercials, as well as in-store merchandising displays for the Charlotte, NC-based restaurant chain, which has more than 500 locations in 10 states, primarily in the Southeast. McCreery gets to do a little acting in the campaign. Check out one of his funny TV spots here.
As part of the partnership, Bojangles is offering a free song download from McCreery's new album, "Christmas with Scotty McCreery" beginning Nov. 26. Cards will be available in all Bojangles' restaurants with a code allowing patrons to download one of three classic holiday songs: "First Noel," "Jingle Bells" or "O Holy Night."
This is McCreery's second commercial endorsement deal. He previously was a national spokesperson for State Farm Insurance and participated in two of their campaigns, "Go To Bat," where he encouraged fans to go to bat to raise money for the American Red Cross, and "Celebrate My Drive," which awarded 14 high schools $100,000 grants and 14 teens brand new cars.
• Trace Adkins will be appearing in the 86th annual Macy's Thanksgiving Day Parade Nov. 22 in New York. The parade airs nationwide on NBC from 9 a.m.-noon (ET).
Other performers joining the festivities are Colbie Caillat; Jimmy Fallon & The Roots; Flo Rida; Chris Isaak; Carly Rae Jepsen; Mannheim Steamroller; Jennette McCurdy; Don McLean; and The Wanted; as well as performers from Broadway musicals "Annie," "Bring It On," "Rodgers + Hammerstein's Cinderella," "Elf," and "Nice Work If You Can Get It."
• Craig Morgan will serve as national spokesperson for "Operation Ride Home," an initiative from the Jack Daniel Distillery to donate more than $100,000 to help service members and their families travel from bases to homes across the U.S. this holiday season. Morgan spent 10 years in the Army before launching his country music career.
For the second year, the distillery is asking people to visit jdoperationridehome.​com and contribute to the campaign. Through travel vouchers for plane tickets and pre-paid debit cards for gas, lodging and food, the distillery hopes to surpass the last year's effort that helped send 721 Fort Campbell. Ky., soldiers and their families home last year.
"Having been there, I know that empty feeling in your gut when you want to travel from your base home for the holidays but just don't have the money to do it," Morgan says in a prepared statement. "There are so many of these heroes who have served multiple deployments overseas and haven't seen their families for years. Our nation's military does a wonderful job getting them back to their bases, but it's just not home."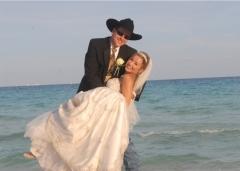 • Country singer Ty England, best known for his 1995 hit "Should've Asked Her Faster," and as a former member of Garth Brooks band, recently married Justina Cardoza in Playa Del Carmen, Mexico. The couple met in his autograph line several years ago in Boise, Idaho, after England performed a concert. After enjoying a honeymoon in Mexico, the couple now resides in Oklahoma City, where England is raising four children from his previous marriage. He plans to begin work on a new album in 2013.
live local music on
Enter your ZIP code to see concerts happening in your area.
Data provided by Zvents
follow msn music