It's Official: Darius Rucker Is A Grand Ole Opry Member
Vince Gill Does The Induction; Keith Urban Makes A Surprise Appearance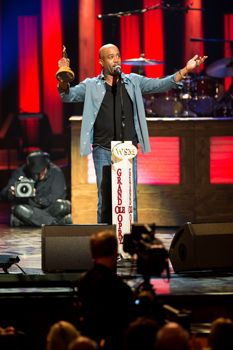 Darius Rucker became the newest cast member of the Grand Ole Opry tonight, with longtime Opry member Vince Gill doing the formal induction. Footage of the event can be seen at opry.com.
Presenting Rucker with the Opry Member Award, Gill said, "I don't think there's a more beloved guy in our music than you . . . Before you even open your mouth and sing a song you've written, everybody is really crazy about you. You will find this place right here to be one of the greatest homes you'll ever have . . . Thanks for wanting to be a country music singer!"
An emotional Rucker, who proved Gill's point when he got a standing ovation from the audience, responded, "I was sitting in here at rehearsals today, and there was nobody in here, and I looked up in the stands. I thought to myself, 'Somewhere in those stands right now my mom is looking at me.' And it just blew me away to be here today . . . This means more to me than I could ever say to you."
Rucker got one big surprise in the form of Keith Urban. After Rucker and the audience watched a clip of recently inducted Opry member Urban sending his congratulations "from Las Vegas," Urban himself then appeared on stage to hug Rucker and offer his congratulations in person.
Also in attendance were members of Rucker's family and friends, including Pro Football Hall of Famer Dan Marino, who joined Rucker on stage to conclude the show. After the induction, Rucker added a plaque bearing his name to the Opry Member Gallery backstage at the Opry House.
live local music on
Enter your ZIP code to see concerts happening in your area.
Data provided by Zvents
follow msn music