Tim McGraw Previews Four New Songs In Nashville
New Cuts Include An Ode To His Adopted Home Town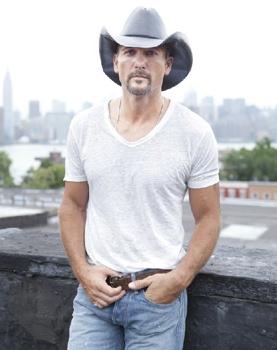 Tim McGraw enthusiastically shared rough mixes of four new songs for a small group of radio programmers and country music media Friday afternoon at a Nashville coffee house. The group of about 25 people also included representatives from McGraw's management team and his new record label home, Big Machine Records, which plans to release a new single from the singer soon.
The four recordings McGraw played were "Mexicoma," "One Of Those Nights," "Nashville" and country rocker "Truck Yeah." All were well received, particularly "Nashville," which some members of the group gave a standing ovation to after hearing it.
McGraw has been performing both "Mexicoma" and "Truck Yeah" on his Brothers of the Sun tour dates with Kenny Chesney. The latter song's schoolboy naughty, "we're cursing without really cursing" title seems destined to become a catch phrase on McGraw t-shirts and other touring merchandise, if it's not already.
McGraw introduced "Nashville" as his "ode" to the city. Its clever lyrics reference numerous classic country songs, and even some of the format's stars, including Johnny Cash and Hank Williams. Among the many songs referenced in the lyrics are "Ring Of Fire," "Fancy," "Crazy" and "Blue Eyes Crying In The Rain." The song's hook wraps them all together as McGraw sings, "Nashville wouldn't be Nashville without you."
live local music on
Enter your ZIP code to see concerts happening in your area.
Data provided by Zvents
follow msn music