Toby Keith, Kenny Chesney, Tim McGraw win CMA Awards
Winners revealed in two categories this morning; show airs tonight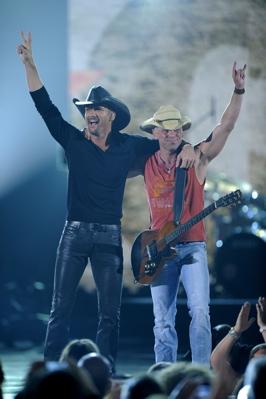 To build some excitement for tonight's "46th Annual CMA Awards," winners in two categories were announced this morning during a live "Good Morning America" broadcast that included cutaways to Nashville's Bridestone Arena, the site of tonight's festivities, where fans awaited an outdoor performance from Reba McEntire.
Winning CMA musical event of the year was Kenny Chesney's duet with Tim McGraw, "Feel Like A Rock Star." Winning CMA music video of the year was Toby Keith and director Michael Salomon for "Red Solo Cup."
Hosted for the fifth time by Brad Paisley and Carrie Underwood, "The 46th Annual CMA Awards" airs tonight from 8-11 p.m. (ET) on the ABC Television Network. Chesney and McGraw are among the performers scheduled to appear, with McGraw taking part in a multi-artist tribute to Willie Nelson alongside Faith Hill, Lady Antebellum, and Blake Shelton.
Chesney is nominated for entertainer of the year, a category for which a winner will be announced at the end of the telecast. He had also been nominated in the music video category for "Come Over," but lost that award to Keith this morning. Musical event was the only category for which McGraw earned a nomination this year.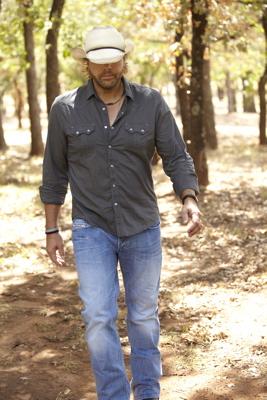 Today's win marks the second time McGraw and Chesney have won a CMA Award for a collaboration. The two received CMA vocal event of the year awards for their work on Tracy Lawrence's "Find Out Who Your Friends Are" in 2007, when the category went by that slightly different name.
Keith (left) has received 28 CMA Award nominations in his career, and this marks his third win. He was named male vocalist of the year in 2005 and also won music video of the year with Salomon, his longtime video collaborator, in 2005 for "As Good As I Once Was." Salomon also won music video of the year in 1995 for directing The Tractors' "Baby Likes To Rock It."
Two-time CMA Awards nominee Love and Theft will host pre-tel ceremonies tonight and will present the trophies to Chesney and McGraw, although not to Keith, who doesn't plan to attend. The CMA Awards nominees and winners are determined by the 11,000 industry professional members of CMA.
One Country will be blogging live from tonight's show, so be sure to check back regularly for winners and their backstage reactions.
Are you sure you want to delete this comment?
live local music on
Enter your ZIP code to see concerts happening in your area.
Data provided by Zvents
follow msn music