John Rich Honored For His St. Jude Fundraising Efforts
Singer Helped Raise More Than $1.4 Million For The Hospital Last Year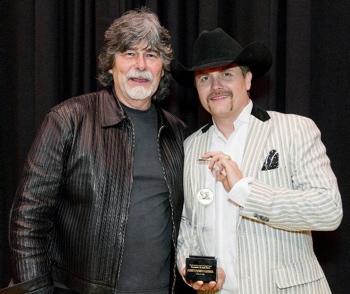 As the winner of NBC's "The Celebrity Apprentice," country star John Rich earned more than $1.4 million for St. Jude Children's Research Hospital last year. That effort earned him the inaugural Randy Owen Angels Among Us Award Saturday night in Memphis at the conclusion of the Country Cares for St. Jude Kids seminar.
The award was presented to Rich by its namesake, Alabama frontman Randy Owen (pictured on the left), who founded the Country Cares program in 1989, mobilizing country radio stations nationwide host annual radiothons and other fundraisers for St. Jude. The stations' efforts are strongly supported by country artists and the Nashville music industry, and the program has raised more than $400 million since its inception.
In his acceptance speech, Rich said, "You shouldn't be getting an award for something you ought to be doing anyway." He also noted that as someone who grew up in a trailer in Amarillo, Texas, he's particularly inspired by the fact that St. Jude helps kids like he was "who wouldn't be taken care of otherwise," because St. Jude never charges families for its care.
In his sometimes humorous speech, Rich referred to "The Celebrity Apprentice" as a "land mine of a TV show," but said while he was participating in it, "I bit my tongue daily, not because it is in my nature to do that, but I wasn't playing for myself, I was playing for the kids of St. Jude. It would not sit well upon them if I turned into a redneck jerk."
During his time on the show, Rich said, "The gasoline in my tank was the faces and stories I knew of St. Jude."
Rich, who has a reputation as a bit of a bad boy, also said, "The best thing about his award is that when my sons Google me [in the future,] they'll see a lot of crazy stuff, but they'll also see this award.
The newly created Angels Among Us Award recognizes a member of the country music industry who demonstrates an immeasurable commitment and dedication to kids battling cancer and other deadly diseases at St. Jude.
"This past year John really embodied what Country Cares for St. Jude Kids is all about," said Owen. "It's really unbelievable to look back over the past 23 years and see what the country music industry has helped us accomplish for St. Jude. This award is a way for us to say thank you to select members of the industry for their continued commitment and support."
St. Jude is celebrating its 50th anniversary of finding cures and saving children.

I think what John Rich has done this past year with St. Judes is the most inspiring thing that a person could do.  By not being selfish like Randy, Martina, Kix and all the other artists who help should send us all a message and appreciate what we have and go back and help these children at st Judes or any other charity, but give it your all.  May good bless all of you for doing what you do.
Are you sure you want to delete this comment?
live local music on
Enter your ZIP code to see concerts happening in your area.
Data provided by Zvents
follow msn music