Briefs: News From Toby Keith, Wynonna Judd, Trace Adkins And More
Plus, Eric Church's Band Raises Money For Charity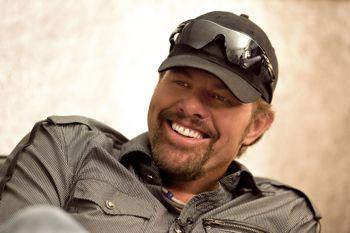 • Toby Keith's latest album, "Hope On The Rocks," will be released Nov 13. It will include his current single, "I Like Girls That Drink Beer." Co-written by Keith and collaborator Bobby Pinson, that song is one of the album's 10 cuts. A deluxe edition will offer 14 cuts. As usual, Keith produced the set and served as its primary songwriter. Watch the clever new lyric video for "I Like Girls That Drink Beer" here.
• Trace Adkins and Emmy and Tony Award-winning actress/singer Kristin Chenoweth will return as hosts of the third annual "American Country Awards," set to air live from Las Vegas on FOX in December. A specific date has not been announced for the show, which airs live from Mandalay Bay. Award nominations will also be announced soon.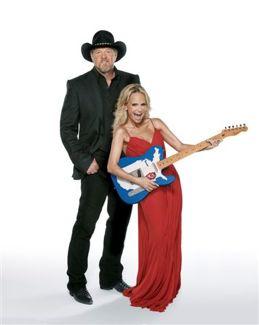 Adkins and Chenoweth (right) were paired for the first time last year. Adkins hosted the show solo in its first year.
"The ACAs honor the best and brightest of country music, from the hotshot breakthrough artists to the icons," says Adkins in a press release. "I'm looking forward to cutting loose again with Kristin, who's quite the firecracker comedienne, while we also take viewers through an evening of great music and awards."
"I'm excited to return to the ACA stage with Trace and his big personality and even bigger boots," says Chenoweth in the same release. "We had a blast last year and I plan to pull out all the stops to make sure everyone has a good time."
• Following the Aug. 18 motorcycle accident that claimed the leg of Wynonna Judd's new husband, Cactus Moser, Judd has issued a new statement about his recovery. Moser is also the drummer in Judd's band, The Big Noise.
"We continue to feel loved and supported by the outpouring of messages from people around the world," she writes. "Cactus continues to improve every day as he begins his road to rehabilitation. We are looking forward to the day when we will be back together on stage again, and I believe we will be stronger than ever. Until then, I will be out on the road with the rest of the band while I wait lovingly and patiently for my husband to return to The Big Noise.
"We have received hundreds of inquiries from people wanting to show support to Cactus in some way," she continues. "In lieu of flowers, gifts and cards, Cactus is asking for family, friends and fans to make a donation in his name to Homes For Our Troops, a non-profit, non-partisan organization committed to helping military personnel who have returned home with serious disabilities. Please visit homesforourtroops.or​g/cactusmoser to learn more.  Cactus will be notified of every dollar donated in his name, and you can even include a message to him along with your donation."
After postponing some dates following the accident, Judd will resume her tour with her band August 30 in Peshawbestwon, Mich. She has also rescheduled the string of shows that had been postponed in the week following the accident. Her current tour dates are scheduled through Dec 22.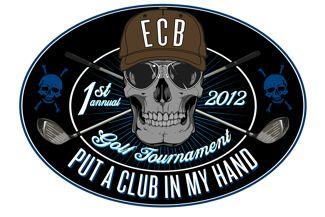 • Eric Church's touring band is joining forces to host an 18-hole golf tournament in Nashville on Sept. 25 to raise money for the Recording Academy's MusiCares charity, a non-profit Grammy organization that provides critical assistance for music professionals in times of need. They are inviting other musicians and industry professionals to join them in forming the 36 teams needed for the fundraiser, to be called "Put A Club In My Hand" (a play on one of Church's hit song titles), at Gaylord Springs Golf Links.
Spearheading the event is Church's bass player, Lee Hendricks, who came up with the idea alongside Church's other band members: Jeff Cease, Jeff Hyde, Driver Williams and Craig Wright, as well as Church's set carpenter, Michael Todd Stembridge.
"I lost a lot of equipment in the Nashville flood [in 2010], but MusicCares came in immediately and helped me recover from those financial losses," says Hendricks. "We, as a band, would love to see Music City step up and repay them for helping to alleviate so much hardship within our community in such a dire time of need, and also acknowledge what they do on a daily basis to make sure all of us are taken care of. They've done so much for us, we want to give back."
Church says of his band's involvement, "I could not be more proud to have my guys step up and decide to do something on their own to give to an organization that helps so many musicians in need. They realized how much they had been helped and wanted to ensure other people would have that opportunity in the future. I certainly will be supporting their efforts and want everyone else to join me."
live local music on
Enter your ZIP code to see concerts happening in your area.
Data provided by Zvents
follow msn music