Lady Antebellum's Grammy Wins Make Some History
Band Was A Long Shot For Song And Record Of The Year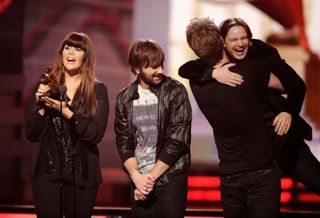 Just how much of a long shot were Lady Antebellum's wins in the all-format song of the year and record of the year categories at last Sunday night's Grammy Awards? Billboard.biz breaks down the odds in an interesting story comparing an artist's likelihood of winning to their history on the Billboard charts.
Lady A's song of the year win for "Need You Now" marks the first time a former No. 1 country song has earned that prize at the Grammys since 1983, when Willie Nelson landed it with his re-make of "Always On My Mind," a song first recorded by Brenda Lee in 1972 and subsequently covered by Elvis Presley, among others.
Besides Lady A (pictured with songwriter Josh Kear) and Nelson, only one other former No. 1 country song has won the song of the year prize. According to Billboard, in the award's second year of existence in 1960, the Jimmy Driftwood-penned "The Battle of New Orleans" won it. Performed by Johnny Horton, that song spent 10 weeks at No. 1 on Billboard's country songs chart in 1959.
Moving on to the record of the year category, which was also won by "Need You Now," Billboard says it's the first former No. 1 country song to win song of the year in the entire, 53-year history of the Grammy Awards!
The previous highest-charting Billboard Country Songs chart entry to win record of the year was Olivia Newton-John's "I Honestly Love You," which reached No. 6 on the chart in 1974. Dixie Chicks' "Not Ready To Make Nice" won the record of the year Grammy in 2007, but the highest that controversial song got on the Billboard country chart was No. 36.
live local music on
Enter your ZIP code to see concerts happening in your area.
Data provided by Zvents
follow msn music