Dierks Bentley To Release Four New Songs In August
Singer Will Also Play Three College Campuses Next Month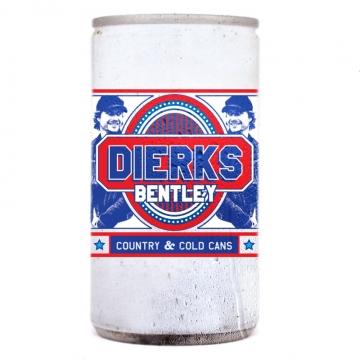 Taking a page from label-mate Luke Bryan's successful series of spring break-themed EPs (mini-albums) aimed at the college crowd, Dierks Bentley will release his own EP, titled "Country & Cold Cans," on Aug. 21. He'll promote the project by embarking on a brief tour, where he'll perform on the campuses of Southern universities along with opening act The Cadillac Black.
The four-song EP, available only on iTunes, was inspired by the title of Bentley's recently wrapped headlining tour of the U.S., Canada and Australia. Bentley enlisted the aid of his road band to record the four songs: "Country & Cold Cans," "Grab A Beer," "Back Porch," and "Summer On Fire."
Watch a short video of the recording process, and some comments about the project from Bentley here, and be sure to keep an eye out for brief appearances from Bentley's dancing daughter, Evie, and his famous dog, Jake, helping out in the vocal booth.
"We thought we'd celebrate the end of summer and back to school with an EP of new material that's about cutting loose," Bentley says in a press release. "It was really inspired by how young and crazy the fans on the Country & Cold Cans Tour were earlier this year . . . We thought it would be fun to get the guys in my band and a couple of cases of beer and go see what happens in the studio. I'm really happy with the tracks, and I think our crowd will dig it."
Bentley's "Country & Cold Cans: Back To College Tour" will make three stops on SEC campuses: the University of Georgia (8/20), the University of South Carolina (8/21) and the University of Mississippi (8/22).
live local music on
Enter your ZIP code to see concerts happening in your area.
Data provided by Zvents
follow msn music