Rascal Flatts' Jay DeMarcus Reveals His Baby's Name
Also Shares The Confusing History Of His Own Moniker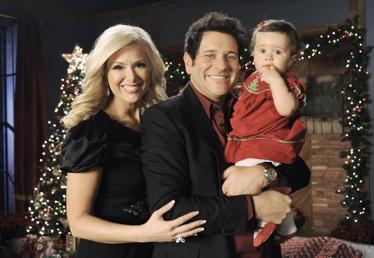 Rascal Flatts' Jay DeMarcus and his wife, TV personality Alison DeMarcus, previously announced they're expecting their second child this summer. Now, Jay has revealed the baby's name to "CMT Country Countdown USA" host Lon Helton. The revelation came when DeMarcus co-hosted the nationally syndicated radio show this past weekend.
Said DeMarcus, "We really are thrilled to be having a boy, and we're gonna name him Dylan Jay DeMarcus. My wife, being the sweetheart that she is, decided that 'Jay' needed to officially be in the family."
He went on to explain what that meant, noting that his own legal name is not actually "Jay." Said DeMarcus, "My real name is Stanley Wayne DeMarcus, Jr. My parents hated the name Stanley and they both hated Wayne, but my dad wanted a namesake. So my mom said, 'I'm not gonna call him JR, I'm not gonna call him Junior, I'm not gonna call him Wayne,' because my dad went by Wayne. 'So we're gonna call him Jay.' So my name has been Jay my entire life, and you can imagine the nightmare in school, [and] trying to get a driver's license, because I was always called Jay." 
In keeping with the history of Jay's name, band mate Gary LeVox joked that while the baby's name will be Dylan Jay DeMarcus, "they're gonna call him Todd."
The baby is expected sometime in August when the band will be halfway through its Changed tour. Dylan will join older sister Madeline (pictured above), who was born in December 2010.
live local music on
Enter your ZIP code to see concerts happening in your area.
Data provided by Zvents
follow msn music