Exclusive: Kenny Chesney Gets Emotional On New Album Track
Singer Also Flexes His Comedy Chops In "SportsCenter" Commercial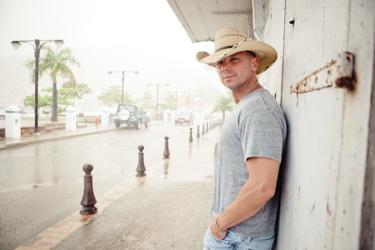 MSN Music has an exclusive first listen to the new Kenny Chesney album track, "Sing 'Em Good My Friend," plus video of Chesney talking about what the song means to him. Check them both out here.
In the video clip, Chesney describes the song as "haunting" with a "unique melody," and says that after finding it, "I realized it was a song I was going to have to treat with very delicate hands." He also calls the song "such a great love story."
In other Chesney news, the singer shuns his usual nice guy image in a new commercial for ESPN's "SportsCenter." In the comedic spot, the country star spurns ESPN anchor Steve Levy's attempt to join him at the popular table (complete with campfire) in the ESPN cafeteria. Other special guests at the "cool table" include Pistol Pete from Oklahoma State, Smokey from the University of Tennessee, Miles from the Denver Broncos, Hook 'Em from the University of Texas and two Dallas Cowboys cheerleaders. The spot was filmed at ESPN's Bristol, Conn., campus. Watch it here.
live local music on
Enter your ZIP code to see concerts happening in your area.
Data provided by Zvents
follow msn music