David Nail Breaks A Finger At CMA Music Festival
Celebrity Softball Game Gets A Little Rough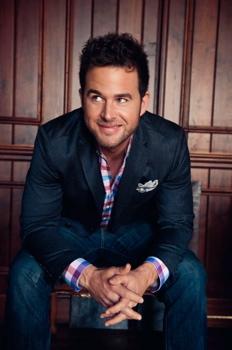 David Nail became the first casualty of this year's CMA Music Festival when he broke his finger during a celebrity softball game on Saturday morning. Ironically the singer, best known for his No. 1 hit "Let It Rain" and top 10 hit "Red Light," had earned a baseball scholarship in his college days.
After making four of the morning's most dramatic catches, on the fourth play Nail ended up with both a minor fracture and a detached tendon, but managed to land an out before doing so.
"You put me in the game, and I only know one speed: hard," he says in a press release. "I only play all-out, and that's what I was doing. I can't believe I broke something doing it, but at least I got my out.
"I've got a really good neurosurgeon who will look at this next week, so I know I'll be okay long term," Nail added. "Right now, I just know I played hard, got to see a lot of the people from around the country who've been there with us over the past few years, and, hopefully, made a few new believers along the way."
No word on how his guitar playing will be affected in the meantime.
More on Bing: David Nail

Are you sure you want to delete this comment?
live local music on
Enter your ZIP code to see concerts happening in your area.
Data provided by Zvents
follow msn music