'The House That Built Me' Wins Song Of The Year CMA
Two Wins So Far For The Lambert Hit
Miranda Lambert, who is celebrating her 27th birthday today, is having a good night at the CMA Awards. Her No. 1 hit, "The House That Built Me," just won the song of the year prize, joining the music video trophy it won earlier tonight. The song of the year trophy goes to the songwriters, not the artist, so Lambert gave just a brief thank you on stage before turning the microphone over the the writers,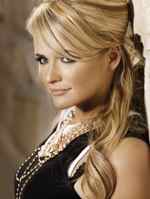 Tom Douglas and Allen Shamblin.
Backstage in the press room, Shamblin spoke about the experience of visiting his Texas home town once a year and driving past his childhood home, which inspired the song.
live local music on
Enter your ZIP code to see concerts happening in your area.
Data provided by Zvents
follow msn music