Dierks Bentley gets upstaged by his dog at tour rehearsal
Singer is locked and loaded for his tour kickoff with Miranda Lambert today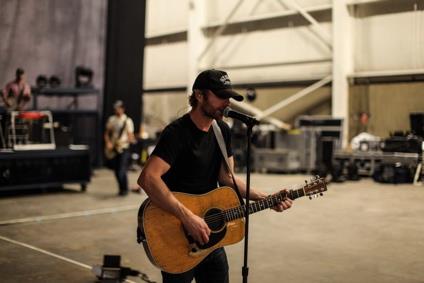 Dierks Bentley kicks off his Locked & Reloaded tour with Miranda Lambert today in Columbia, S.C., but two days ago he invited members of the Nashville media to rehearsals in a North Nashville warehouse, where he offered a sneak peak of what's to come.
Thanks to an incident earlier in the week, however, Bentley was quickly upstaged by his almost equally famous dog, Jake, who trotted around the rehearsal space greeting guests and sat next to Bentley on a road case, perfectly at ease while facing a row of microphones and cameras during an informal press conference. While inquiries about the actual tour eventually came, the press corps' first questions for Bentley centered on the dog.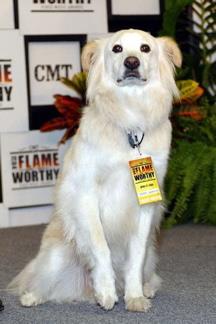 On Sunday afternoon, Jake jumped a high fence during a thunderstorm and took off. A panicked Bentley, who spent seven hours searching for the dog, smartly took to Twitter and Facebook to very effectively spread the word. Jake—who has made appearances in several of Bentley's videos and one album cover—was found and returned home the next morning. One of the four songs Bentley played for the media was "Home," and he said this week the song mostly makes him think of Jake.
His performance showed off Bentley's new high-tech tour gear, including giant video projections that displayed images of a flag, military service members, and even Bentley's late father during "Home." Bentley also performed "5-1-5-0," "Tip It On Back," and one bluegrass number, "Up On The Ridge," as he and his band moved comfortably around their new, two-level stage set, which the singer called "a big jungle gym for adults."
The tour will also include some onstage collaborations with tour mate Lambert, and Bentley hinted that they'll join forces for "some country stuff, some unexpected stuff and some rock stuff" during several different moments in Lambert's set. One of the collaborations will be "Bad Angel," a song they performed together (with Jamey Johnson) on Bentley's "Up On The Ridge" album.
"We both love traditional country music . . . and feel a duty to represent that some way in our shows, especially when we're on stage together." Bentley said of himself and Lambert. "But we also want to have fun and do some different things, too. It's carrying a little bit of the torch, but also trying to surprise people."
With the two headliners being good friends, Bentley said, "I think it makes it fun for the crowd knowing it's a real organic, fun tour." The two stars previously toured together in 2006.
Bentley will play at least one brand new song in his set, one he recently wrote about his father helping him move to Nashville, truck and guitar in tow. The song will utilize Bentley's new video elements.
"Playing a brand new song in front of 10,000 people, it's nice to have a story being told behind you to help a new song make sense," he explained. His hit, "Every Mile A Memory," will also rely heavily on video, with Bentley describing it as "a video yearbook of all the stuff that's happened on the road in the last nine-10 years."
Bentley also said he upped the budget for this tour and added some bells and whistles, telling his crew to think big. "Let's pretend this is the last tour we're ever going to do," he told them.
Clearly, however, it won't be the last from Bentley, who is at the peak of his career, with his trusty dog safely back by his side.
Are you sure you want to delete this comment?
live local music on
Enter your ZIP code to see concerts happening in your area.
Data provided by Zvents
follow msn music