Keith Urban holds his own as a new "American Idol" judge
Country star calls the "Idol" cast a "dysfunctional family"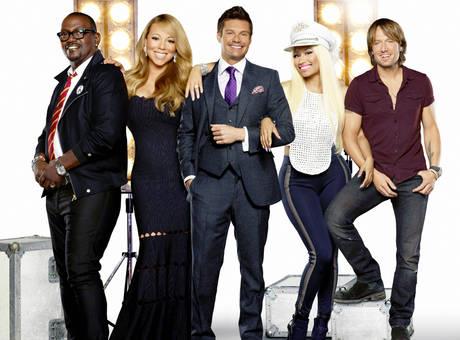 With the supposed feud between new judges Mariah Carey and Nicki Minaj dominating headlines about season 12 of "American Idol," you might expect another new judge—country's Keith Urban—to get lost in the shuffle. Not so.
Based on a lengthy preview of highlights from the season's first two episodes screened for "Idol" fans, contestants and media in 11 theaters around the country last night, Urban (pictured on the right) will play a prominent role when the new season begins airing on FOX next week.
Prior to the screening, executive producer Nigel Lythgoe noted that Urban focused during the auditions of finding an "authentic" singer.  But clearly, not everyone lived up to his standards. Urban displays a range of amusing facial expressions during the worst of the auditions, and for reasons that have yet to be explained, even falls off his chair at one point, a clip the show's producers seemed to take great delight in showing repeatedly.
Seated between Carey and Minaj at the auditions, Urban also displays great skills as a mediator and diplomat. But the catfight between the divas is not lost on him. At one point, Urban is shown beating his head on the judging table and saying "I feel like a scratching post." Urban also noted once that Minaj was "drinking catnip."
It's clear from the preview that the best part of this season will be watching the two women react to each other's comments. Watch for Carey's priceless reaction after Minaj tells a female contestant she's saying "no" to her audition because the contestant is wearing the same color eye shadow as Minaj and, therefore, setting up what Minaj describes as "a rivalry."
But all of the judges seem to have warned up to Urban quickly. In a Q&A following the screening, Minaj called him "hilarious." And in a rare moment of agreement, Carey seconded that thought, saying Urban has "a caustic wit. It diffuses you sometimes."
In what's clearly being set up as one of the show's inspirational storylines, watch for a poignant audition from Lazaro Arbos, a contestant from Naples, Fla., with a pronounced stutter when he speaks, but not when he sings. Arbos's rendition of Simon and Garfunkel's "Bridge Over Troubled Water" wows the judges and sends him through to Hollywood. The theater audience watching the screening in Nashville broke out into applause for Arbos two different times.
The screening was followed by a live Q&A with all four judges—including the returning Randy Jackson—moderated by host Ryan Seacrest and beamed to all of the participating theaters via satellite from Los Angeles. One again, Urban held his own, and spoke about why he's enjoying his time on the judging panel.
"This dysfunctional family you see before you," he said, "I love being part of it . . . and the unpredictability on the set." 
live local music on
Enter your ZIP code to see concerts happening in your area.
Data provided by Zvents
follow msn music