Remembering Mindy McCready as she's mourned by the music industry
Singer once broke ground on the imaging of women in country music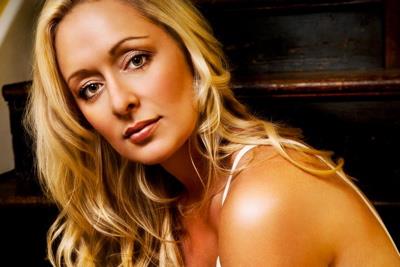 It was 1995, and reps for BNA Records brought an artist they were extremely exited about over to the Nashville offices of Billboard, where the author of this blog worked at the time. Her name was Mindy McCready. She was 19, stunning, talented, feisty and fearless. She visited with the Billboard staff, snapped a few photos, and left behind a quite favorable impression not just in our office, but in many others up and down Nashville's Music Row.
Her first single, "Ten Thousand Angels," was just climbing the charts at the time, and the young singer was simultaneously breaking new ground for the imaging of women in country music. In promotional images, she sported the then fashionable trend of midriff-baring outfits. While it seems quaint by today's standards, 18 years ago such outfits—also favored by country singers Shania Twain, Linda Davis and others at the time—reflected the trend of sexuality taking a front-and-center role in the packaging of female country artists, a change from the Nashville music industry's long-held belief that female artists needed to project a "girl next door" image.
McCready's debut album, also titled "Ten Thousand Angels," featured several shots of the teen wearing midriff-revealing fashions in the CD booklet, and one inside cover shot showed just her navel, which also happened to be pierced.
But Joe Galante, the then chairman of the label group McCready recorded for, told this writer in a 1996 interview that his staff was careful in her debut video "not to make her a sexual dynamo as much as a young woman who's strong."
She may have seemed strong—even started strong—but as we came to learn as her career faded and her personal life took center stage she was, sadly, not so strong after all.
After just three top 10 hits, and another two that went top 20, McCready changed labels from BNA to Capitol in 2000, but her one album for the latter label was not able to revive her already waning career. She charted her 12th and final single on Billboard's Hot Country Songs chart in 2002.
In the 13 years that followed, she unfortunately became more famous for her poor choices and personal struggles than she ever was for her music. Those well-documented struggles included substance abuse, domestic violence, custody issues, failed relationships, rumored affairs, rehab, family strife, multiple brushes with the law, and a longtime battle with depression so debilitating that it would ultimately lead her to take her own life on Sunday at age 37, leaving her two young sons motherless.
In the days since her death, numerous fellow artists have shared kind works about her on Twitter, and members of the Nashville music business establishment recalled their own fond memories of the singer in a tribute compiled by Billboard, where both her talent and her character are described in glowing terms by numerous people.
Even without knowing McCready personally, it's probably not far off the mark to guess that such praise and kindness from her industry peers would have stunned her. It's likely she's felt completely shut out of—even shunned by—the music industry in recent years, an industry with an admittedly sad tradition of sometimes eating its young. In the Billboard article, McCready's most recent booking agent spoke about the near impossibility of finding work for her as a performer.
While perhaps nothing might have made a difference in McCready's heartbreaking downward spiral, it's remarkably sad that this outpouring of affection and support came too late to bolster her spirits, and perhaps even save her life.
In the end, it was a singer similarly outcast by the country music industry who issued the most profound statement on McCready's death. "I will pray for her children," tweeted Chely Wright, "and I hope that people are gentle with her memory."
live local music on
Enter your ZIP code to see concerts happening in your area.
Data provided by Zvents
follow msn music