Garth Brooks reportedly plans to shoot a TV special in Las Vegas
Singer also plans to resume touring in 2014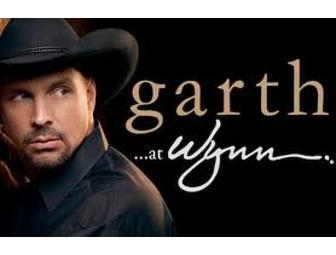 The Las Vegas Sun's Robin Leach reports that while Garth Brooks recently finished up his three year residency as a performer at the Wynn Las Vegas, he plans to return to the casino's Encore Theater one more time to film the show for a television special, which might possibly air live. Reportedly on tap to direct the special is none other than Oscar-winning filmmaker Martin Scorsese, Wynn owner Steve Wynn tells Leach.
Wynn also reveals that Brooks plans to resume touring in late 2014.
Meanwhile, Brooks' last regular performance at the Wynn this past weekend was an emotional one, according to the Sun. He was introduced by Wynn, then joined on stage by wife Trisha Yearwood for two duets. She also walked him off stage when the final curtain came down.
In his introduction, Wynn told the crowd that Brooks had played to 300,000 people at the Wynn over the course of 184 shows in three years.
Celebrities attending the wrap party after the show included musicians Quincy Jones, Paul Anka, and Black Eyed Peas member Taboo, as well as magicians Criss Angel and Nathan Burton.
Can't wait for Garth to return to touring. We have missed him. Just sad my son won't be able to see him again (he passed away in Dec. 2010). Garth was his hero. He did get to see him once in concert when he was 5 yrs old. He was the happiest kid in the building. He got Sandy's autograph. It made his day seeing Garth perform live. I promised him if he ever came to Atlanta I would get tickets and we would go see him...and I kept that promise!

Are you sure you want to delete this comment?
live local music on
Enter your ZIP code to see concerts happening in your area.
Data provided by Zvents
follow msn music