Little Big Town Join Campaign To End Child Hunger
Band Will Shoot A Video Of Their ACM Awards Song "Here's Hope"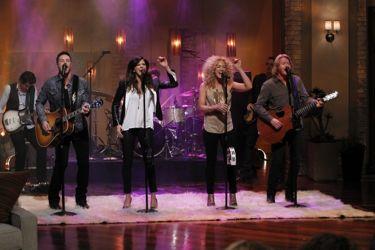 Little Big Town has teamed with ConAgra Foods to support the company's Child Hunger Ends Here campaign. The partnership is aimed at inspiring people to get involved in their local communities to help end child hunger in the United States, and raise awareness of the issue.
As part of the partnership, Little Big Town is shooting an exclusive video of the original song "Here's Hope" in the style of their popular Web series "Scattered, Smothered, and Covered." Fans can visit the ConAgra Foods Facebook page in September to see the video, along with other exclusive content, and participate in a Q&A session with the band. 
Little Big Town's previous involvement with the campaign came during last spring's Academy of Country Music Awards when they performed "Here's Hope" on the show, an anthem written to support the cause by fellow artist Hunter Hayes and other writers.
Says the band's Phillip Sweet in a press release, "Having gone through difficulties with my own family and growing up in a single-parent household with five siblings, I've had first-hand experience with not knowing sometimes where our next meal was coming from. We had to be creative and work together as a team and a family to make ends meet. We could not have done it without the help of friends and our community. Our children should never have to wonder where their next meal is coming from, and with the passionate work and generosity of everyone involved with ConAgra Foods and this endeavor, hopefully child hunger will one day be a thing of the past."
ConAgra is the maker of such brands as Chef Boyardee, Egg Beaters, Hebrew National, Hunt's, Marie Callender's, Orville Redenbacher's, PAM, Reddi-wip and Slim Jim.
live local music on
Enter your ZIP code to see concerts happening in your area.
Data provided by Zvents
follow msn music