Country Stars Help 'Lifting Lives' Campers Develop Musical Talents
Gary Allan, Little Big Town, Darius Rucker, Carrie Underwood, Wynonna Donate Their Time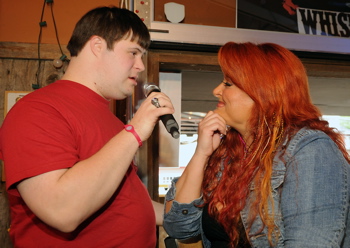 The Academy of Country Music is hosting its second annual Lifting Lives Music Camp in Nashville this week, and country stars have been turning up to work and play with the campers, who have a variety of developmental disabilities and a talent for music. The camp provides music enrichment through performances and educational activities.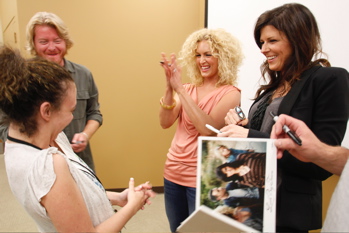 Among the artists volunteering their time to participate in camp activities this week are Gary Allan, Little Big Town, Darius Rucker, Carrie Underwood and Wynonna.
Allan (pictured talking to campers below) participated in a songwriting workshop on Monday.
Later that day, Little Big Town (left) took part in an art and music session in which campers created self-portraits while using music to inspire artistic expression.
On Tuesday, Wynonna (above) led the campers as they performed karaoke at a Nashville bar.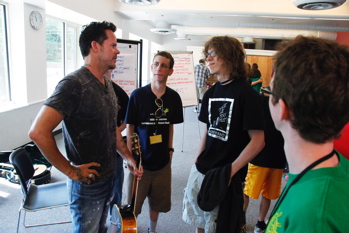 The camp runs through Friday, when the campers will perform live on the Grand Ole Opry with Rucker, reprising their performance of "Music From The Heart" from this year's Academy of Country Music Awards, and sharing a new song they've written together at this year's camp.
The Academy's charity arm, Lifting Lives, funds the costs of the camp, hosted in conjunction with the Vanderbilt Kennedy Center for Excellence in Developmental Disabilities.