Martina McBride Kicks Off Indy 500 With National Anthem
Catches Up With Winner Dario Franchitti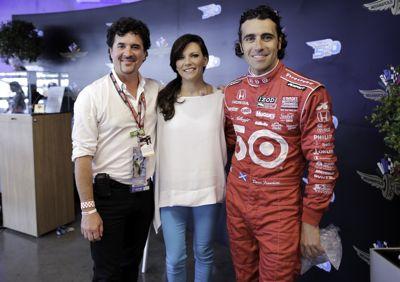 Martina McBride performed the national anthem at Sunday's Indianapolis 500 race, and met with the day's big winner, driver Dario Franchitti, who raced into Victory Lane for the third time in his career. But just before the green flag was waved at Indianapolis Motor Speedway, McBride gave a stirring rendition of the anthem in pre-race ceremonies in front of nearly 350,000 spectators.
In honor of the late Dan Wheldon, who won the Indy 500 last year before his untimely death, McBride wore a Dan Wheldon championship ring on her right hand during her performance.
"I felt so excited and proud to be performing our anthem, especially since I was surrounded by so many of our military men and women," McBride said in a prepared release. "I was also wearing the championship ring from Dan Wheldon's win last year and that was really special. It was an honor to be a part of the tradition of the Indianapolis 500."
McBride is pictured with Franchitti, right, and the head of her record company, Scott Borchetta, left.
live local music on
Enter your ZIP code to see concerts happening in your area.
Data provided by Zvents
follow msn music