New Willie Nelson album offers an eclectic set of cover songs
A series of releases and events are planned for the legend's 80th birthday year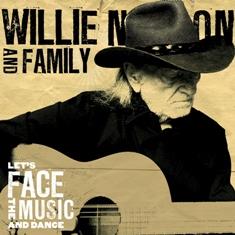 The prolific Willie Nelson will release a new album, titled "Let's Face The Music And Dance," April 16 on Legacy Recordings. It's a collection of new studio performances by Nelson and members of his band and extended musical family, recorded in Austin, Texas.
The eclectic set—something that's becoming a bit of a late-career trademark for Nelson—is a collection of pop, rock, jazz and country classics drawn from the 1930s, 1940s and 1950s, including works by such legendary songwriters as Irving Berlin, Carl Perkins, Frank Loesser, Django Reinhardt and Spade Cooley. Also included is a new version of a composition by another legendary songwriter, Nelson himself. He re-cut "Is The Better Part Over," which he first included his 1989 album "A Horse Called Music."
The album is the first in a series of releases and events being planned to celebrate the country music legend's 80th birthday on April 30.
Here's the album's full track listing, including songwriter credits:
1. Let's Face the Music and Dance (Irving Berlin, 1935)
2. Is the Better Part Over (Willie Nelson, 1989)
3. You'll Never Know (Mack Gordon, 1943)
4. Vous Et Moi (Claude Francois/Jean Bourtayre)
5. Walking My Baby Back Home (Fred Ahlert/Roy Turk, 1930)
6. Matchbox (Carl Perkins, 1957)
7. Twilight Time (Al Nevins/Morty Nevins)
8. I Can't Give You Anything But Love (Dorothy Fields/Jimmy McHugh)
9. I'll Keep On Loving You (Richard Coburn/Vincent Rose)
10. I Wish I Didn't Love You So (Frank Loesser, 1947)
11. South Of The Border (Jimmy Kennedy/Michael Carr)
12. Nuages (Django Reinhardt)
13. Marie (The Dawn Is Breaking)
14. Shame On You (Spade Cooley, 1944)
live local music on
Enter your ZIP code to see concerts happening in your area.
Data provided by Zvents
follow msn music