Billy Dean Returns With New Album This Month
Set Is Dean's First Album In Four Years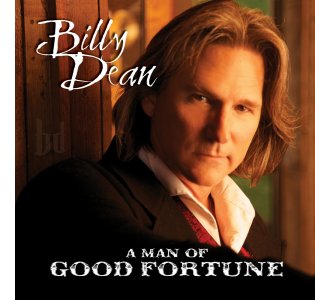 Billy Dean, a reliable country hit maker in the 1990s, will release his first studio album in nearly four years on Sept. 25. The 10-track album is titled "A Man Of Good Fortune," and includes seven songs written by Dean, who launched his own music publishing and production company in 2009.
"Music has deeply enriched my life," says Dean in a press release announcing the album release. "My fans have waited patiently for this new release because they know this one is for them. It's because of my fans and their support that I've spent most of my life on a musical journey, and that's why I truly feel like 'A Man Of Good Fortune' . . . I hope it will be worth the wait."
Dean notched 11 top 10 singles between 1991 and 2005. He also sang on Kenny Rogers' Grammy-winning No .1 hit in 2000, "Buy Me A Rose," along with Alison Krauss. That song was his only No. 1 hit on the Billboard charts.
Here's the album's track list: 
1. I Can't Leave
2. A Seed
3. Middle Of Nowhere
4. Dear John
5. All The Difference In The World
6. I Don't Need As Much Hell To Raise
7. Crazy Beautiful
8. Imagine What I'd Do
9. Made For You And I
10. Laura Nadine
live local music on
Enter your ZIP code to see concerts happening in your area.
Data provided by Zvents
follow msn music