Country stars descend on Memphis to aid St. Jude fundraising efforts
Brantley Gilbert, Hunter Hayes, Joe Nichols and many more join the Country Cares cause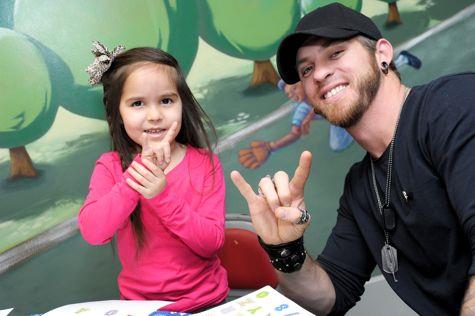 Nashville was a little short on country stars this week as more than 20 of them headed West to Memphis for the 24th annual Country Cares for St. Jude Kids Seminar, taking place Jan. 17-19. This year's event—organized for and about St. Jude Children's Research Hospital—drew 870 attendees, most of them from country radio stations and Nashville record labels, as well as the format's stars—both established and up-and-coming.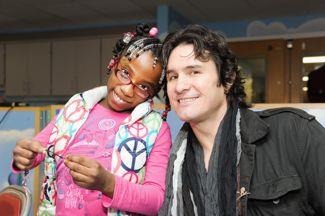 Among those in attendance were Brantley Gilbert (above), Hunter Hayes, Joe Nichols (pictured at right with a patient), and the winners of two recent TV reality competitions, "The Voice's" Cassadee Pope and "The X Factor's" Tate Stevens.
The artists toured the hospital, interacted with patients at an art carnival at the Peabody Hotel, and autographed scores of items including guitars and hats for country stations to use during their St. Jude fundraising radiothons, among other planned activities.
Nichols, who was making a return visit to the hospital, said after his tour, "I would urge anyone who wants to be in touch with their humanity to come here to St. Jude . . . God is all over this place. It's impressive and humbling to see the impact that country music has had at St. Jude, to see what givers those who support country music are and the difference they make."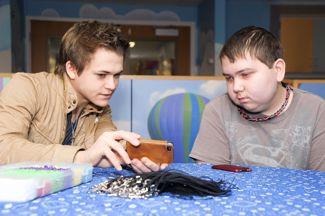 Gilbert declared the hospital "awesome" and said, "If there's extra change in your pocket, it should be going here, to St. Jude. I mean, these are just kids, man. They haven't even had a chance to make a mistake yet."
Since it was founded by Alabama band front man Randy Owen 24 years ago, the Country Cares program has raised more than $440 million for the children of St. Jude. Owen still actively spearheads the program, and was on hand to personally thank his fellow artists for participating this year. He even gamely donned a paper robe at the art carnival and helped patients create a mural using paint-filled syringes.
Hayes, who is pictured above checking out a new video with a St. Jude patient, was making a return visit to St. Jude, like Nichols. He said after his Friday tour, "I was told it was not going to be an average hospital visit. First of all, it is already happy. It's joyous. There's an energy. There's a positivity. There's the 'hope' message that lives and breathes in everything, in the people, in the building. It's more than just bright colors and lots of natural light. It's the attitude, it's the hearts and the minds, it's the way the people operate here, and the way you feel when you come here."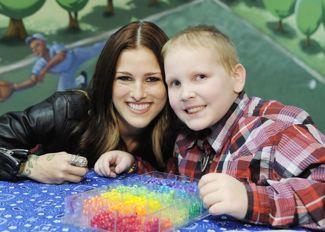 Pope, who is pictured on the right getting a smile out of a St. Jude patient, said, "Since this is my first trip to St. Jude I just really wanted to soak in every second, every minute of it. I'd been wanting to experience this since I was a kid. Just seeing all the campaigns and promotions and the big names behind this I knew it was such an amazing cause; that it was a place that was inspiring."
Stevens, who is pictured below visiting with St. Jude patient Anthony Lawrence and his sister, called the hospital "a place of hope and life."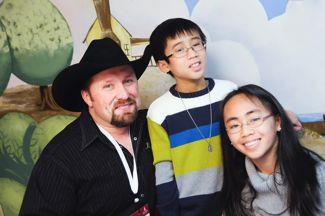 "I think I'm a pretty tough guy most of the time, but these kids are so tough," he added after his tour. "This whole day has opened my eyes to why I not only want to be a part of this, but why I have to be a part of it."
Among the other artists attending the Country Cares seminar this year are Katie Armiger, Mark Cooke, Joel Crouse, Jaida Dreyer, Lindsay Ell, Rachel Farley, Tyler Farr, The Henningsens, High Valley, Rachele Lynae, Eric Paslay, Maggie Rose, Joanna Smith, Sweetwater Rain and Charlie Worsham.
Disclosure: The author of this blog is a longtime member of the Country Cares advisory council.
live local music on
Enter your ZIP code to see concerts happening in your area.
Data provided by Zvents
follow msn music