Grammy nominee Eric Church's live album to hit stores in April
Special vinyl edition to be made available for National Record Store Day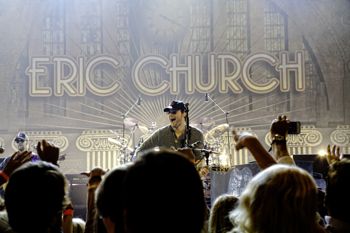 Last October, Eric Church recorded his first ever live album at the Tivoli Theatre in Chattanooga, Tenn. Now, he's set April 9 as the release date for that 17-song project, titled "Caught In The Act: Live." It will feature hits and other tracks from his three albums, "Sinners Like Me," "Carolina," and "Chief."
A double gatefold vinyl version of the album will also be made available on National Record Store Day, April 20. That package will include four additional tracks and a special 7-inch disc.
On Sunday night, Church will vie for two Grammy Awards in the categories of best country solo performance and best country song, both for "Springsteen." He will be in attendance at the show in Los Angeles.
He'll join Kenny Chesney on the No Shoes Nation tour beginning March 16 in Tampa, Fla.
Here's the full "Caught In The Act: Live" track listing:
1. "Before She Does"
2. "How 'Bout You"
3. "Drink In My Hand"
4. "Over When It's Over"
5. "I'm Getting' Stoned"
6. "Creepin'"
7. "Keep On"
8. "Hungover & Hard Up"
9. "Sinners Like Me"
10. "Country Music Jesus"
11. "Pledge Allegiance To The Hag"
12. "Jack Daniels"
13. "Homeboy"
14. "Lotta Boot Left To Fill"
15. "Smoke A Little Smoke"
16. "These Boots"
17. "Springsteen"
live local music on
Enter your ZIP code to see concerts happening in your area.
Data provided by Zvents
follow msn music