Ronnie Dunn's Just Warming Up For The Second Half Of His Career
Gets His 'Midlife Crisis' Out Of The Way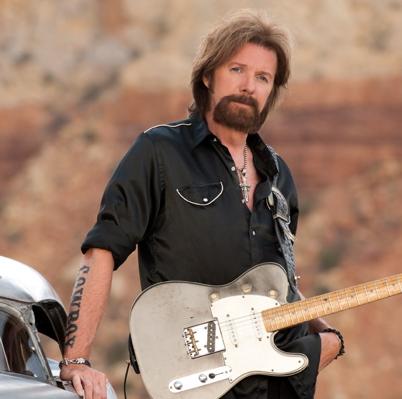 When Ronnie Dunn came home with the word "cowboy" tattooed across half of his right arm, his wife Janine decided it was time for a little chat. He's already announced plans to disband the group in which he'd become a superstar, Brooks & Dunn, without first discussing it with her, so the tattoo, which Dunn admits his wife "wasn't crazy about," may have been the final straw.
On a stop home during the last few dates of the Brooks & Dunn farewell tour, Janie met him at the front door, then ushered him straight through the house and out onto the back patio right from his tour bus.
"She gave me this little pep talk," he recalls of his wife of 20 years. "She said, 'You're doing a lot of things that are life changing events here. You're quitting a really good job, and you didn't talk to me about it. [Then] you come home with some 'cowboy' tattoo from your elbow to your wrist. I think you need to slow down. I'm not sure if you're coming apart or just thinking too much.'"
Taking away the one excuse he was prepared to use, Dunn says, "She brought up the midlife crisis thing, then she backed it up by saying 'You're a little past the age of going through a midlife crisis.' So I just shut up and listened to her."
Dunn, who recently welcomed his first grandson, admits he'd been feeling the stress of launching a solo career in his 50s, although the top 10 success of "Bleed Red," the first single from the solo album he released last year, likely went a long way toward calming his fears.
Long considered one of the finest—if not the finest—male vocalists in Nashville, Dunn was cheated during his 20-year career with Brooks & Dunn by never being eligible for a  nomination for the top male vocalist trophies at the CMA or ACM Awards, since those are reserved for solo acts. He admits he's now hoping that's an honor that might now come his way.
"I may have waited too late," he says. "I'll give you all the neurotic answers. I may have never gotten it anyway, but I'd like to. By the same token, I'm in no way whining or feeling left out or belittled in any way that being in a duo—as successful as it was—kept me from doing anything. If anything, it's opened the doors to everything."
And while Brooks & Dunn dominated in the vocal duo awards categories for much of their run together, Dunn admits he didn't always want them to win.
"It's sometimes like if you're the Dallas Cowboys or the Patriots and you win the Super Bowl five years in a row, even your fans are going to start rooting for the underdog," he says. "There have been times when I've sat in the audience for real and gone 'Don't call our name.' It's healthy in this business or in sports to have dips. It's an important dynamic."
As for his solo career, he's hoping there are no dips on the horizon. His new single, "Let The Cowboy Rock" is climbing the national radio charts, and a "Let the Cowboy Rock" tour is in the works for fall.
Dunn says he's always been drawn to the cowboy mystique, a semi-frequent theme in his songs. "I was born in West Texas, and my dad was a foreman of a small ranch out there," he says. "When he wasn't doing that, he had a band called the Fox Four Five. They would play a weekend radio show on a station in Abilene. He was a cowboy. He was actually a thoroughbred trainer and a stable boy when he was a kid in Kentucky. So it's always been a big part of what I did. Now does that justify me having to put a tattoo on my arm? No. But hey, whatever."
He's taken to social media to ask fans to suggest opening acts for the upcoming tour. But Dunn, who admits to once responding to a review he didn't like by e-mailing the music critic a brief note containing only the words "kiss my ass," jokes that he's a menace to the cyber media world.
"A lot of the stuff I put on there is a little impulsive," he says with a laugh. "I need a governor and a guard around me at all times.
"When people [in the inner circle] heard I was actually going to have access to social media, their hearts skipped a beat," says Dunn, who much prefers Facebook to Twitter. "But if you do it right, it's a good way to get feedback from people. I love asking them what singles they want to hear. If you get active people in there . . . you can go back and forth with them. It's pretty cool."
live local music on
Enter your ZIP code to see concerts happening in your area.
Data provided by Zvents
follow msn music