Tim McGraw invites fans to witness his music video shoot
Log in here to watch all the action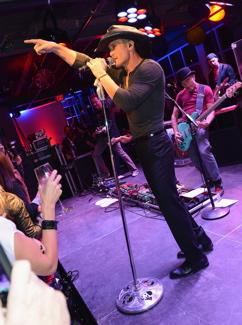 In a world where social media has given fans nearly instant access to celebrities, in some cases, artists have had to up the ante on the exclusives they grant to those fans. First, Dierks Bentley put cameras in the studio for the recording of one of his albums and allowed fans to watch the process in real time (albeit largely without sound). Now, Tim McGraw plans to allow his fans to virtually peek in on the making of his next music video, "One Of Those Nights."
Tomorrow afternoon (Tuesday, Nov. 27), starting at 3:30 p.m. (CT), fans can log in here to watch the video being shot in Nashville via a live stream on Ustream. McGraw will have the ability to interact with fans and chat with them periodically throughout the shoot.
"It's crazy that 25 years into my career, this single and this album represent a lot of firsts for me," says McGraw in a press release. "There's a renewed feeling of creativity and excitement, and I want the fans to be part of it every step of the way. The technology that's out there today provides some cool new ways to connect with music fans, so it'll be fun to give everyone a real look at what happens on the video shoot. I hope we can do more stuff like this as things get even busier with [upcoming new album] 'Two Lanes of Freedom.'"
"One of Those Nights" is the second single from that album, due out Feb. 5, 2012.
live local music on
Enter your ZIP code to see concerts happening in your area.
Data provided by Zvents
follow msn music