Waylon Jennings' Last Recordings To Be Released In September
Album Contains 12 Songs The Country Legend Recorded Before His Death In 2002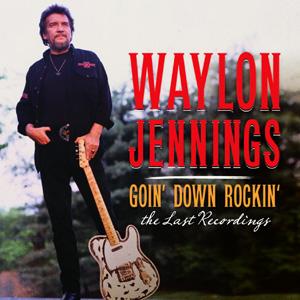 Ten years after his death, Waylon Jennings fans will get to hear an album full of previously unreleased music from the country legend, which is being planned for a September release.
The album, "Goin' Down Rockin': The Last Recordings of Waylon Jennings," contains a dozen songs the country legend recorded with longtime accompanist Robby Turner in the last few years before Jennings' death. The Country Music Hall of Fame member contributed vocals and guitar to the tracks. Following Jennings' death, Turner, who played bass on the recordings, was tasked with finishing them based on the instrumentation the two men discussed, but never got to complete together. He brought in musicians who had long worked with the Jennings, including Reggie Young, Richie Albright and tour mate Tony Joe White.
"Waylon knows he's surrounded by friends and all that hear this will feel as if they know Waylon in all his authenticity," explains his widow, country singer Jessi Colter, in a press statement. With his family's blessing, "Goin' Down Rockin': The Last Recordings of Waylon Jennings," will be available on September 11.
Jennings wrote 11 of the 12 songs on the new album, which also includes White's "Goin' Down Rockin'" (on which White himself is a guest). In all, the album will feature eleven songs that have never been released before.
Here's the full track listing:  
1.     Goin' Down Rockin'
2.     Belle of The Ball
3.     If My Harley Was Runnin'
4.     I Do Believe
5.     Friends In California
6.     The Ways of the World
7.     Shakin' The Blues
8.     Never Say Die
9.     Wasting Time
10.  Sad Songs & Waltzes
11.   She Was No Good for Me
12.   Wrong Road To Nashville
live local music on
Enter your ZIP code to see concerts happening in your area.
Data provided by Zvents
follow msn music