Alan Jackson Looks For Songs That 'Grab' Him In Making Albums
Current Set Debuts At No. 1 On Country Albums Chart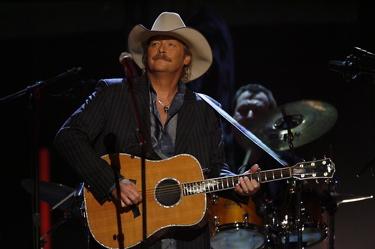 Alan Jackson's new album, "Thirty Miles West," debuted at the top of Billboard's Top Country Albums sales chart this week, making it his 13th album to debut in the top spot on release week. The set also bowed at No. 2 on Billboard's all-genre Top 200 Albums chart.
Jackson wrote six of the album's 13 songs. But for the seven he didn't write, the country star recently explained to One Country his process for picking songs that fit him.
His main criteria, he says, is "whatever grabs me. I try to listen to the melodies a little bit first. Then I'll study the lyrics some, but I don't usually like to have a lyrics sheet. I just like to hear it, because [with a lyrics sheet] you start looking at who wrote it, and reading ahead, and you can't really hear the song."
Songs that make the cut, he says, are usually ones he ends up wishing he'd written. From there, he narrows down the choices by topic.
"Most songs are about love or lost love, and you'll end up with an album of 10 or 12 heartbreak songs if you're not careful," he tells One Country. "I always try to mix it up with songs that are about something different than just love or heartache. I'm always looking for that."
He has his own process in the studio as well. "For the most part, we pretty much go in there and [make what is] almost a live recording, instead of piecing it together with a computer all the time," Jackson says of the method he and longtime producer Keith Stegall employ. "I think that makes a difference. I'll go in there and sing a song four or five times, and that's about it. We'll take the best of it."