Martina McBride's New Video Offers Message Of Hope To Cancer Patients
Clip Includes Cameos From Sheryl Crow, Katie Couric, Robin Roberts, Hoda Kotb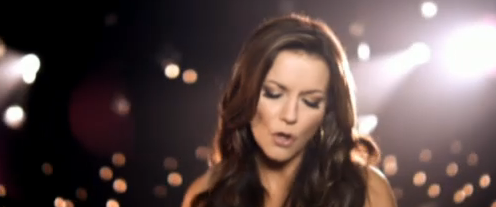 Martina McBride's new single, "I'm Gonna Love You Through It," is about surviving breast cancer with the help of a supportive partner, so in her new video for the song, she enlisted the participation of some real-life cancer survivors, and those with a connection to the disease. Some are celebrities, some not. Among those making cameos in the emotional clip, and offering testimonials about how cancer has affected their lives, are Sheryl Crow, and journalists Katie Couric, Robin Roberts and Hoda Kotb.
The video was shot just outside of Nashville last month and features dozens more cancer survivors and their supporters. 
"I knew it was a song I wanted to record because of the strong message of hope that it sends," said McBride in a press statement. "I've heard so many stories about how music can change lives from songs I have recorded like 'A Broken Wing,' 'Independence Day,' and 'Concrete Angel.' I believe 'I'm Gonna Love You Through It' will offer hope and inspiration to so many people who are going through or have been through cancer and the people who love them through it. It takes a lot of strength and a lot of love to get through something like that. I think this song says what so many people want to express to their loved ones."
The song is included on McBride's upcoming album, "Eleven," due out Oct 11. Watch the video here.

Martina,
Thank you SO much for recording this song. My mom, who is only 51 years old, told me she had been diagnosed with breast cancer on 9/30/11. Ironically the day before October, breast cancer awareness month. I was so shocked because this just came out of left field and I didn't even know how to react. Several hours later, I was on my way back home from roller derby practice and I heard your new song, I'm Gonna Love You Through it, for the first time. Again, ironically I come from a family of 3 kids and as soon as that line was sung I burst into tears - but as I listened to the words of this amazing song I was filled with SUCH hope that I knew my mom could beat this cancer because of the support group I knew would emerge for her. I heard an interview from you on the Crook & Chase countdown show the other night and I heard you say at first you weren't sure if you would record this song; but I want you to know I thank you SO much for doing so! You have given me and my family hope. Thank you, sincerly from the bottom of my heart!!!
Are you sure you want to delete this comment?
live local music on
Enter your ZIP code to see concerts happening in your area.
Data provided by Zvents
follow msn music