2013 mid-year report
A look back at the best albums from January to June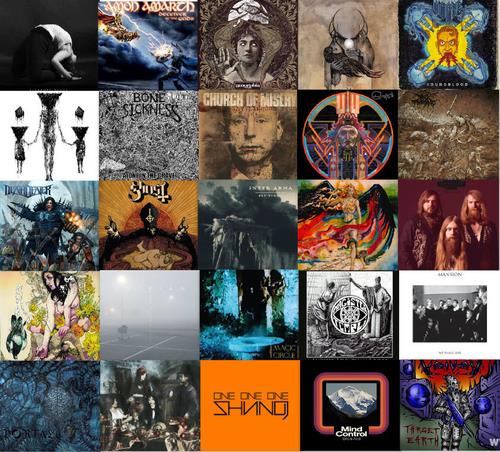 Sometimes it doesn't hit you just how good a year in music it is until you actually sit down and compile a list of what albums have been worthwhile. The first half of 2013 is a good example, because at one point I was so awash in mediocre new releases that I was losing sight of the forest for all the darned trees.
Looking back at all the new albums I've heard in 2013 so far – close to 400 – not only was it easy to come up with 25 titles I could easily foresee making my year-end top 50, but I was left with a good number of worthy albums left over, which made me realize that this year has been a lot stronger than I ever thought. And with new albums by Carcass, Behemoth, Motorhead, Gorguts, Alcest, Pinkish Black, Revocation, Vasaeleth, Powerwolf, SubRosa, King Diamond, Vattnet Viskar, and more on the horizon, the second half of 2013 could be as fun as the first half was.
In the meantime, here are my 25 choices for the best metal releases of the year so far, presented in alphabetical order. Two EPs have been included, because they're far too good to be left out. And sorry, folks, there's no Black Sabbath, nor Deafheaven.
Altar Of Plagues, Teethed Glory and Injury (Profound Lore)
Amon Amarth, Deceiver Of The Gods (Metal Blade)
Amorphis, Circle (Nuclear Blast)
Anciients, Heart Of Oak (Season Of Mist)
Audrey Horne, Youngblood (Napalm)
Author & Punisher, Women & Children (Seventh Rule)
Bone Sickness, Alone In The Grave (20 Buck Spin)
Church Of Misery, Thy Kingdom Scum (Metal Blade)
Clutch, Earth Rocker (Weathermaker)
Darkthrone, The Underground Resistance (Peaceville)
Death Dealer, War Master (Steel Cartel)
Ghost B.C., Infestissumam (Loma Vista)
Inter Arma, Sky Burial (Relapse)
Jess & the Ancient Ones, Astral Sabbat (Svart)
Kadavar, Abra Kadavar (Nuclear Blast)
Locrian, Return To Annihilation (Relapse)
Magic Circle, Magic Circle (Armageddon Shop)
Magister Templi, Lucifer Leviathan Logos (Cruz Del Sur)
Mansion, We Shall Live (self-released)
Portal, Vexovoid (Profound Lore)
Purson, The Circle And The Blur Door (Metal Blade)
Shining, One One One (Prosthetic)
Uncle Acid & The Deadbeats, Mind Control (Metal Blade)
Voivod, Target Earth (Century Media)
live local music on
Enter your ZIP code to see concerts happening in your area.
Data provided by Zvents
follow msn music