25 @ 25: Helloween, 'Keeper of the Seven Keys Part 1'
Revelatory second album profoundly influenced a new subgenre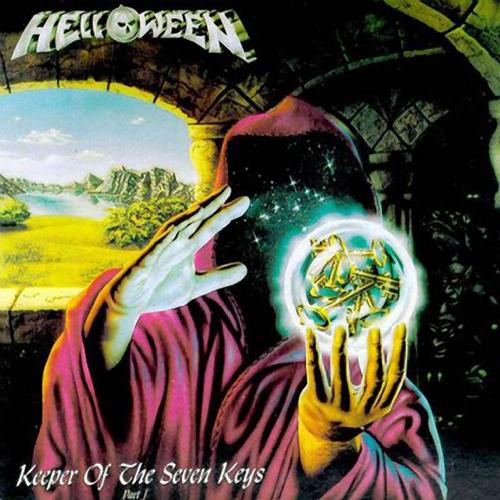 In the spring of 1987 there was no mistaking Helloween was poised to do something significant, but until we heard the first single off their second album we had no real idea how much they'd improved, and it wouldn't be years later where we realized just how huge an impact it had. The German band with the silly name (even going so far as to put a pumpkin in their logo) made a minor splash a year and a half earlier with the debut Walls of Jericho, an album that stood out with its blistering speed and heavy thrash riffs and soaring, operatic lead singing. We kids were plenty used to the unrelenting energy and aggression of thrash, but while other bands were playing fast and singing rather than shouting – your primary difference between thrash metal and speed metal – there was an Iron Maiden or Judas Priest level of bombast that few American bands, with the exception of Crimson Glory, were able to pull off at the time. As strong as that first record was, though, nothing could prepare listeners for what Helloween had in store on the follow-up.
As good as a guitarist Kai Hansen was (and still is), I've never liked his singing voice. Although he could hit the high notes nicely, he lacked the kind of authority in his singing that this form of music demanded. Helloween needed a singer with real presence, and they found the perfect frontman in 18 year-old Michael Kiske. Boasting a multi-octave range that rivaled Queensrÿche's Geoff Tate at the time, Kiske's high-pitched head voice, on the other hand, was unrivaled. And with a singer who could belt out the melodies as Kiske could, Hansen and fellow guitarist Michael Weikath were able to let their songwriting really stretch out, to the point where the band proposed to Noise Records that they put out a double album. Wisely, Noise declined, and instead of releasing a mammoth double LP Helloween recorded the much more taut, 37-minute Keeper of the Seven Keys Part 1, and it clicked with fans in Europe and in North America in a way that a sprawling, pricy 80-minute album would never have.
Before the album came out, it was preceded by a music video for the song "Halloween", and I'll never forget when I first heard it. Sure, the five-minute track was a bit disjointed (we'd soon find out why) and the concept behind the song didn't make much sense, but what a song, what a singer, and what a huge leap it was compared to Walls of Jericho. The heaviness was gone, ditched in favor of a much cleaner, polished tone, its staccato palm-muted rhythm riffs unlike anything that was out there in metal at the time. Yeah, there was an Iron Maiden influence that was undeniable, but with those rapid-fire twin leads, those bizarrely clean palm-mutes, the awesome range of Kiske, and the pure speed by drummer Ingo Schwichtenberg, it was clear just from that one track Helloween was doing something completely original, and as it would turn out, seminal.
Starting with a corny intro that features a cheeky "Happy Halloween" melody, "I'm Alive" explodes out of the gate. Cut from the same cloth as the Jericho classic "Ride the Sky", its clean tones set it completely apart. High-gloss albums were the trend in heavy metal at the time, as records tended to be very trebly, but the production by Tommy Newton and Tommy Hansen is remarkable, balancing heaviness and that '80s veneer impeccably, to the point where Keeper of the Seven Keys Part 1 holds up sonically very well today. It hardly sounds dated, unlike many albums from the era.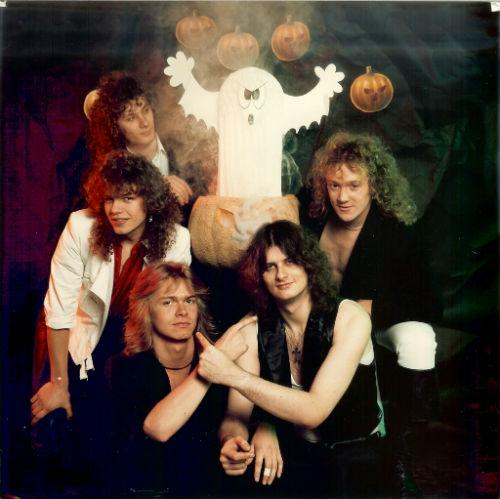 Written by Kiske, "A Little Time" deviates from the Helloween formula, a brilliant, mid-paced rocker built around a wicked intro riff and a dominant performance by Kiske himself. Yet it has a fittingly Teutonic feel to it, its blend of sharp guitar riffs and strong melodies very much like Scorpions and Accept. Hansen's "Twilight of the Gods" gallops and careens along maniacally, and "Future World" makes inspired use of Kiske's vocal power and range. Unbeknownst to us at the time, those are two of three songs on Keeper of the Seven Keys Part 1 that best laid the foundation for what would come to be known as power metal: crisp, operatic, fast, flashy, delving into fantasy themes, and boasting a big, sing-along chorus. Weikath's "A Tale That Wasn't Right", meanwhile, plays another card that power metal has used shamelessly for a quarter century: the power ballad. It's maudlin and over the top, but that chorus is unavoidable.
Then there's "Halloween". When I bought the album after hearing the edited version of the single, it came as quite a surprise that the real song was a whopping 13 minutes long. In more than 28 years of listening to metal I have heard countless epic metal songs that exceed 12 minutes, but two in particular have held me spellbound more than any other: Iron Maiden's "Rime of the Ancient Mariner", and "Halloween". Hansen's "Halloween" is not only a masterful exercise in progressive metal songwriting and instrumental dexterity (just listen to bassist's Markus Grosskopf's insane fills six minutes in), but its use of dynamics and unbelievably catchy melodies is extraordinary to this day. Loaded with mood changes and theatrics, it's truly an opera in itself, a joyous jumble of ridiculous lyrics that celebrate every metalhead's favorite holiday. Meanwhile Kiske takes the proverbial bull by the horns and flat-out sells the hell out of the song in what I'd describe without hyperbole as one of the most perfect metal vocal performances ever on record. I'm still not exactly sure what Hansen is getting at with his muddled story, but I know those lyrics word for word thanks partly to his melodies, but mainly thanks to Kiske's charismatic delivery. The interlude "Follow the Sign" might have closed the ending, setting the stage for the inevitable sequel, but I could never care about that track because I was too busy catching my breath after "Halloween". It still has that effect on me.
A year later Helloween would return with the great Keeper of the Seven Keys Part 2, which was a little richer and more diverse than its predecessor, complete with another epic in the form of its majestic title track, but that song never did match the power of "Halloween", which is a big reason why I have always preferred Part 1. Incredibly, Part 2 would be Hansen's last album with Helloween, as he went on to form Gamma Ray in 1989. While Gamma Ray and Blind Guardian would lead the nascent wave of German power metal into the 1990s, Helloween never fully recovered from the loss of Hansen. Kiske would leave the band in 1993 after the Chameleon album, and while the band would keep making music to the present day with singer Andi Deris, they've never matched what they accomplished in the 1980s, especially Keeper of the Seven Keys Part 1. 25 years later it is still the greatest power metal album ever recorded.
Watch a complete Helloween set from 1987 (posted at YouTube) here.
live local music on
Enter your ZIP code to see concerts happening in your area.
Data provided by Zvents
follow msn music