25 @ 25 #8: Cro-Mags, "Age Of Quarrel"
Hardcore and metal meet in a New York moshpit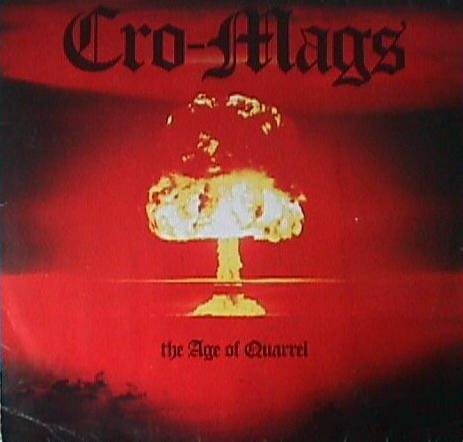 I was too young for the first wave of hardcore punk—I never got to see bands like
Black Flag
,
Bad Brains
or
Minor Threat
live. But when the second wave of hardcore started bubbling up at clubs like CBGB, I was in high school, and I loved a lot of it. One of the most exciting shows I ever saw was
Sick Of It All
,
Gorilla Biscuits
and
Judge
at City Gardens in Trenton, NJ in 1988. That version of hardcore was equal parts punk and metal, played by pissed-off, short-haired dudes who were as happy to punch each other in the face as shout lyrics about brotherhood and unity, and for every straight-edge zealot, there was a drunk skinhead ready to bounce a bottle off your head. It was a rough and threatening scene, and while part of me was thrilled to be there, bouncing and shoving in the pit, another part was careful never to stray far from the group I'd arrived at the show with.
The Cro-Mags were one of the flagship bands mixing metal and hardcore in New York. They were Krishnas (or some of them were, anyway), but they were also violent thugs who'd attack almost anybody who disagreed with them about anything. And their debut album, The Age of Quarrel, was one of the most vicious, uncompromising records of the time. For the most part it's a hardcore album, full of short, fast songs. But even those have shredtastic guitar solos (unlike most hardcore bands, Cro-Mags had two guitarists, Parris Mayhew and Doug Holland) wedged into the middle, and the rhythms (courtesy of bassist Harley Flanagan and drummer Mackie, who later joined Bad Brains) are more intricate and metallic than the bam-bam-bam of '80-83 hardcore. And then there are the slow-burning epics. "Seekers of the Truth" was a full four minutes long—an eternity in hardcore—and it was built around a crawling doom riff and a throbbing bass line, as vocalist John Joseph howled and snarled. "Malfunction" and "Life of My Own" are equally slowed-down and powerful. But even their fast songs ("World Peace," "Street Justice," "Hard Times") had more visceral impact than much of what was being played in New York at the time. Despite their name, the Cro-Mags represented an evolutionary step in hardcore, not a regression.
The East Coast metal community embraced them; the band opened for Motörhead at an infamous NYC show in 1985, and their second album, 1989's Best Wishes, was more of a crossover thrash album than a hardcore disc. I remember the skins and other hardcore kids I knew being turned off by that move, and by the early '90s, the Cro-Mags' status had diminished quite a bit in favor of bands that recorded and toured more often, and had fewer lineup changes. I still have The Age of Quarrel in my iPod, though, and I find myself listening to it with surprising regularity.
Here's the video for "We Gotta Know":
live local music on
Enter your ZIP code to see concerts happening in your area.
Data provided by Zvents
follow msn music